Posted by MOTO-D on 5th Jul 2018
In World Superbike the action started off fast with the comeback from Team Go Eleven and Roman Ramos. After a crash during the tests Roman was forced to start from the last position on the grid because of an electronic problem during Superpole. With his distinctive determination Roman faces both races with steady pace and recovers positions in a series just before the finish line in 12th position twice. The beautiful growl for the Spark Exhaust system set him apart from the crowd while also helping him climb so many positions.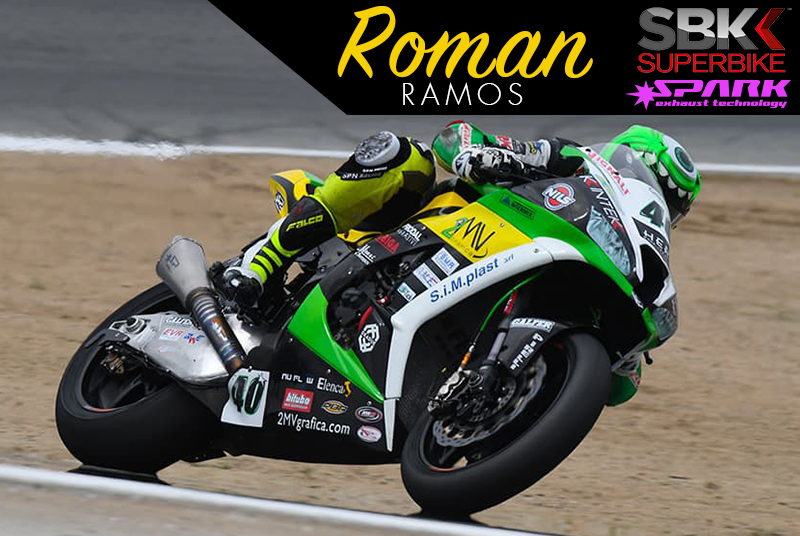 Tati Mercado - Team Orelac Racing VerdNatura concludes the tests 3/10 of a second from the Top 10. During the race he runs off the track at turn 6 and loses contact with the group. While trying to recover positions he accelerates too much and crashes at famous Laguna Seca "Corkscrew". Mercado starts well at the beginning of Race 2 as he's determined to redeem himself from Race 1. He sets a good race pace on his Spark Exhaust Kawasaki Ninja ZX-6R and gets 11th place.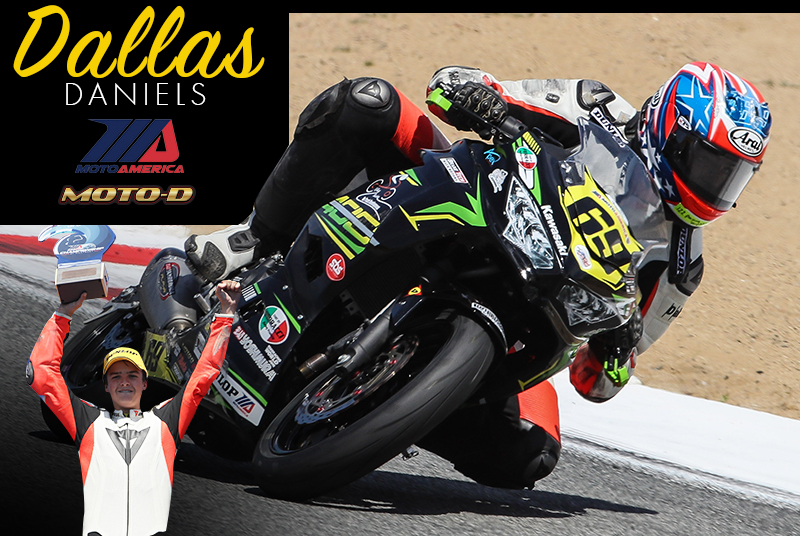 In the MotoAmerica Liqui Moly Junior Cup, Dallas Daniels said "It was a crazy race right from the start with all the riders going down including my teammate Jamie Astudillo. I was smooth and tried not to make any mistakes. Before the red flag I was running fourth so that put me fourth on the grid for the restart. Got a good start and when Ashton Yates and Jay Newton went down during the 10th lap, I put my head down and brought it home 3rd Place!" Daniels Kawasaki Ninja 400 was supported with MOTO-D Stands and Tire Warmers and we think he did an awesome job!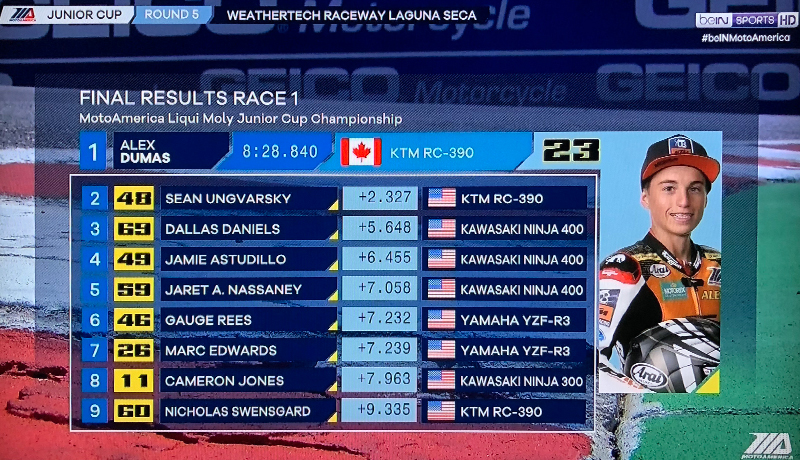 Jamie Astudillo continued to show off her talents in MotoAmerica and said "Laguna Seca was one drama filled raced. I got off the line pretty well going into Turn 1 in third place coming from sixth on the grid, which is the best I've ever qualified. I held my own for a lap and a half until I went down in Turn 5. Lucky the bike and I were able to get back up and keep racing. I caught a break when a red flag was thrown because of another incident after a few laps. Once we got back on the grid I was 24th which was the last row. The red lights went out and I knew I had to ride the wheels off that bike to get a good result. At the end of those 5 laps I had made my way around 20 riders to finish 4th." Astudillo kept it cool with the MOTO-D motorcycle undersuit and it was incredible to watch her fight for the best position in the race!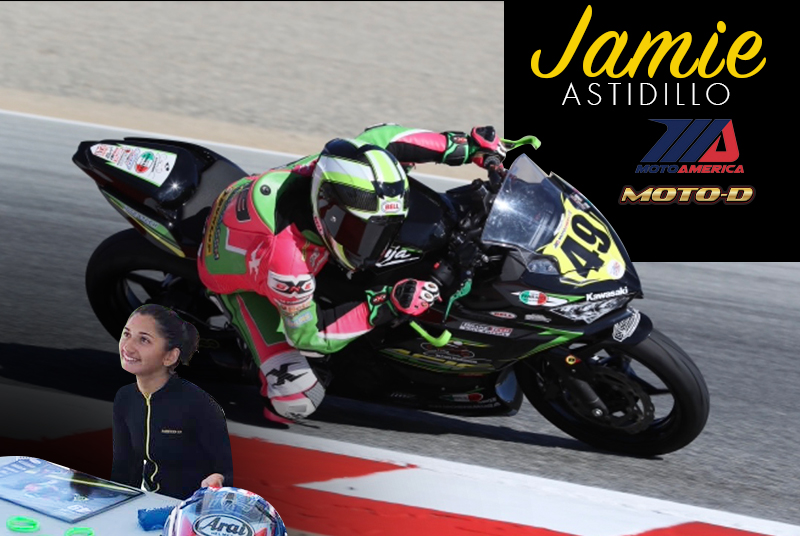 In MotoAmerica Supersport, Jaret Nassaney #59 qualified 24th on the tough and winding course. Nassaney worked hard throughout the race to better his best finish of 15th at Road America earlier in the season. Nassaney finished the race just inside the top twenty with a 19th place finish on his Suzuki GSX-R600 using Bonamici Rearsets.
-
It was also a great weekend for Altus Motorsports Supercharged Team debuting the new Tucker Powersports Kawaski 400 in the Liqui Moly Jr Cup. Nassaney started 18th on the grid aboard the Tucker Powersports Kawasaki and quickly moved through the pack toward the front with a 5th Place Finish in Race 1. The Altus Motorsports Ninja 400 was outfitted with super grippy Bonamici Rearsets for the ultimate in feel and shifts.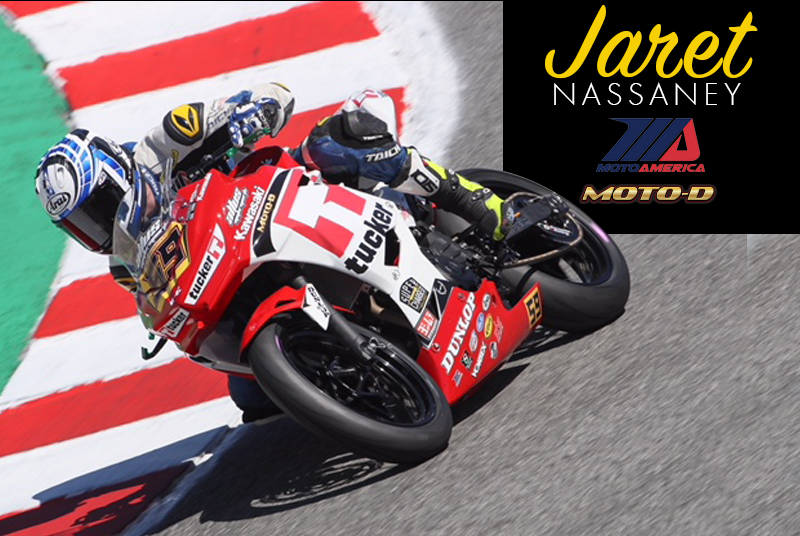 The action continued with Nassaney's teamate, Draik Beauchamp #77 on board his Spark Exhaust powered Yamaha R3. There were quite a few riders going down early in the race while they raced for position. Beauchamp followed Nassaney through the carnage where they both were running 5th and 6th respectably. With six laps to go the race was red flagged and restarted. Both Nassaney and Beauchamp capitalized on the restart maintaining their positions. With a few laps to go Beauchamp was pushing hard to keep Nassaney in tow and unfortunately went down when his front end pushed going into Turn Five. We felt so bad for young gun rider Draik (who was the most stylish rider for the weekend) and was hoping that he would not only see the checkered flag (to match his cool pants) but get a podium too, next time Draik you will and we can't wait to see it!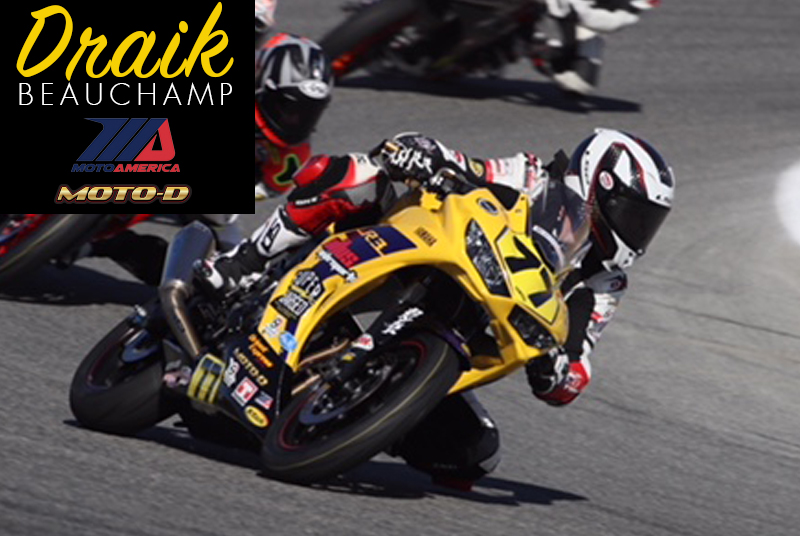 A strong showing from MotoAmerica Supersport riders Aaron Graham, JC Camacho, Miles Thornton, Jaret Nassaney, Max Angeles, and Fernando Silva.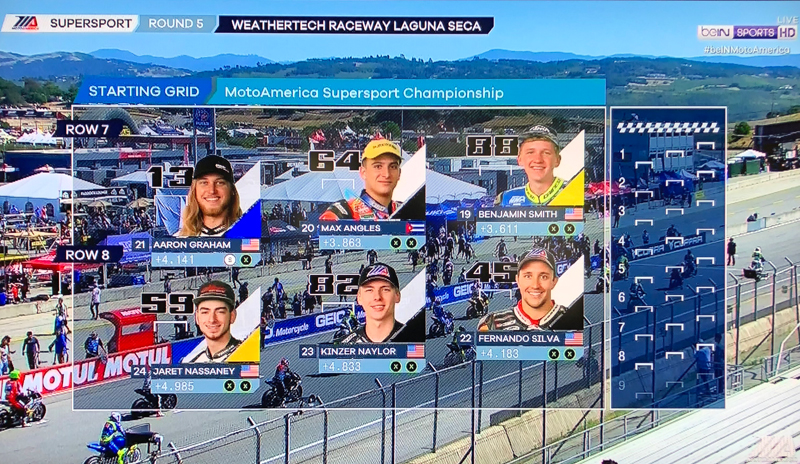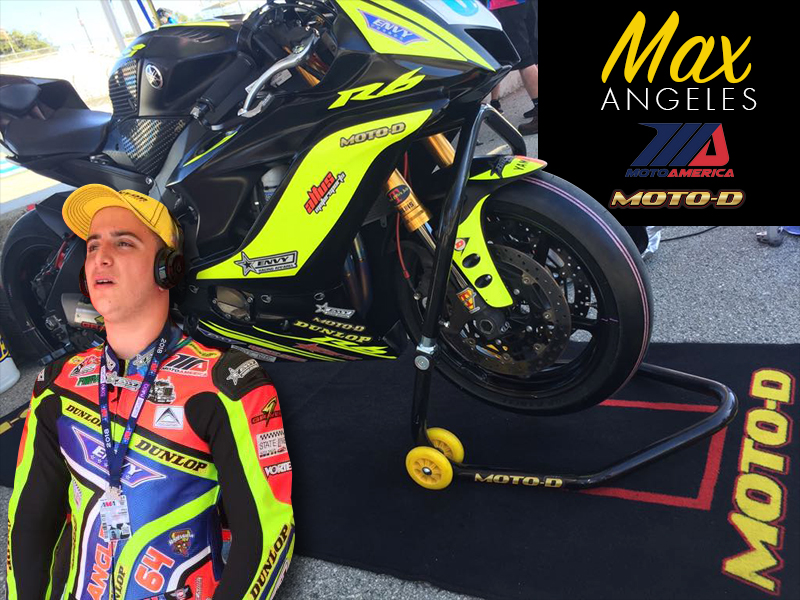 Max Angles arrived at Laguna on Wednesday evening and was ready Friday to start learning the track but during practice he ended up having bike issues and had to pit in. A loose pin the harness was found, the problem was fixed, but they had already lost a lot of valuable practice time. On Saturday, since there was no Supersport 600 race, he observed the WSBK and MotoAmerica Superbike riders watching and learning their lines. On race day Sunday during the second qualifier the previous throttle issue reappeared and had to pit in again which resulted in the throttle bodies being replaced so he ended up qualifying in 20th. During the race we started coming into speed and dropping faster times and was in 11th when in Lap 8, he lost the brakes and went to the gravel but luckily did not crash. Angles rejoined the race and lost the brakes again and had to pit resulting in a DNF. Angeles said "I loved Laguna and hope to do it next year again with much better results. A huge thank you to my Team Envy Racing and all my sponsors including Dunlop, MOTO-D, Envy Racing Apparel, Altus Motorsports, StateLine Auto, Thermosman, Westside, RacerFX, and Hitromasol." Angeles kept his Dunlop race tires hot using MOTO-D tire warmers and professional setup using a MOTO-D Paddock Mat.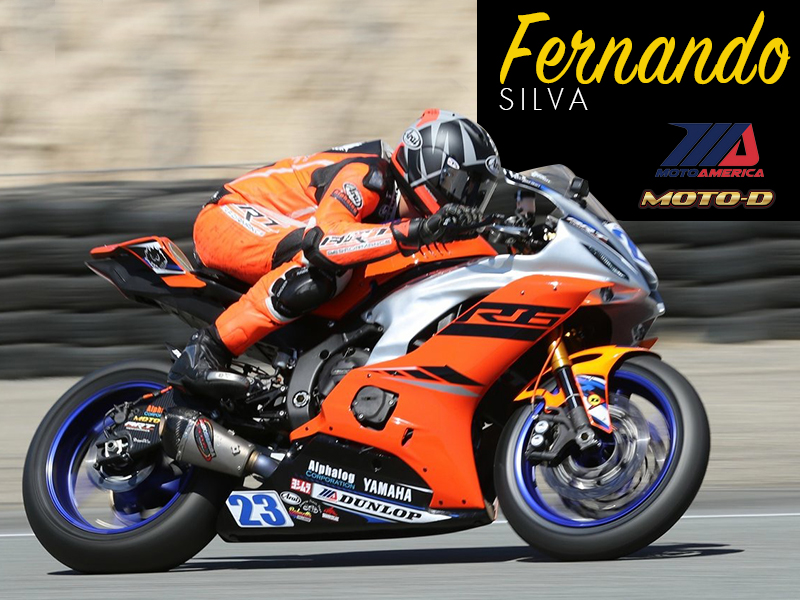 Fernando Silva representing ART Performance Miami Florida said "The weekend went very well, I was able to improve the bike's setup and get closer to the fight with the riders ahead of me. We are improving every time out and that is great especially because we have never ridden Weathertech Laguna Seca before, it is new. Even with the limited time we had this weekend, I was able to learn the track very quickly and finish in 20th place." Silva got his Yamaha R6 over the line using MOTO-D Stands, Tire Warmers, and Bonamici R6 Rearsets.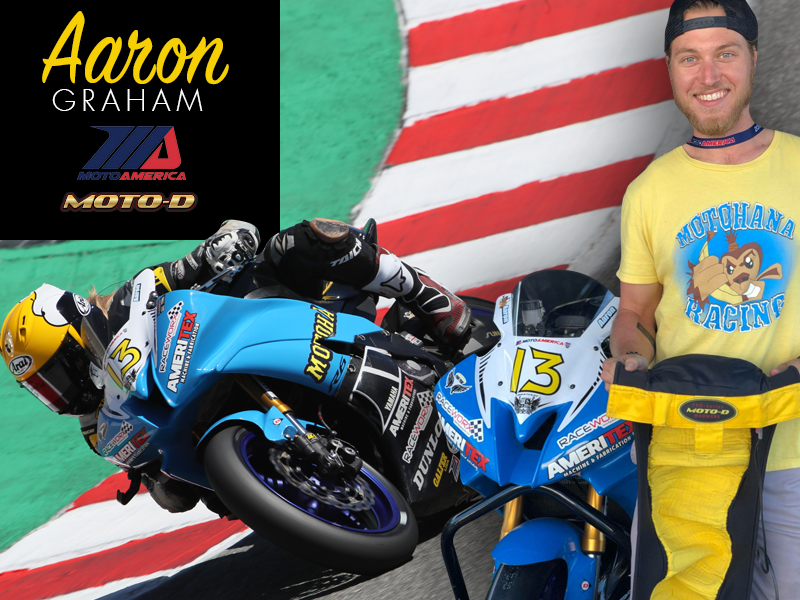 Motohana Racing Aaron Graham arrived in California ahead of schedule since he has never been to Weathertech Raceway Laguna Seca. According to Graham "It did not disappoint. The race track is located in one of the most beautiful places I've ever seen in my life, and only about 15 minutes from the beach of the Monterey Bay. MotoAmerica also shared the venue with World Superbike, which added another level of excitement as some of my favorite racers in the world were walking around in the same paddocks that I was in." Graham qualified on row 7 for the 4th time this year, got a decent start in the race, and had a lonely ride with a 16th place finish. "A thank you to Jim Cambora of Raceworx USA which has elevated my racing beyond belief, Steve Upchurch at Racing Engine Service (RES) for building me a rocket of a motor, and MOTO-D Racing for putting me on fresh tire warmers for total confidence. It makes it so much easier to get tire pressures right, every single time, when you have good tire warmers from MOTO-D that are consistent and predictable."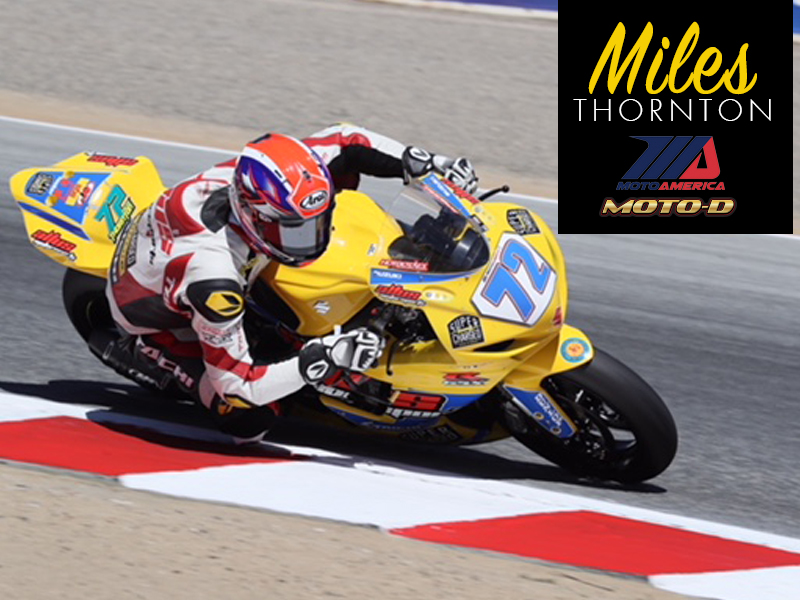 Supersport 600 veteran racer Miles Thornton #72 qualified 9th with a 1:28:42 on his Bonamici Lever Guard protected Suzuki GSX-R 600 at Laguna Seca. The last time Thornton threw a leg over his machine at Laguna Seca was way back in 2014, but Thornton's skills and tenacity pushed him to just 1.9 sec off the pole sitter Valentin Debise. Thornton and crew chief Eric Gray discussed reaching for more to put them in the hunt for a podium finish making some minor adjustments to the bike setup. When the flag dropped on lap one Thornton knew the slight bike changes were a set back and he would have his hands full to maintain an inside the top ten finish. Pushing hard late in the race and finally getting past JC Camacho after a four lap battle Thornton went down on Turn Five with the front end pushing on him. Thornton quickly remounted and salvaged an 18th place finish. We wish Miles Thornton better success in Utah!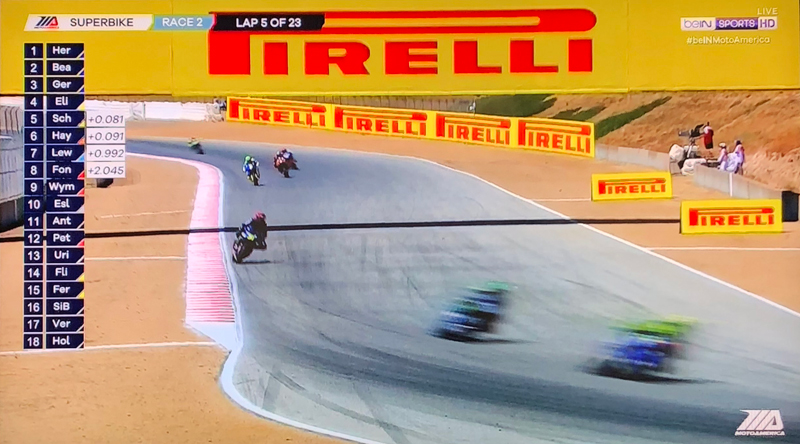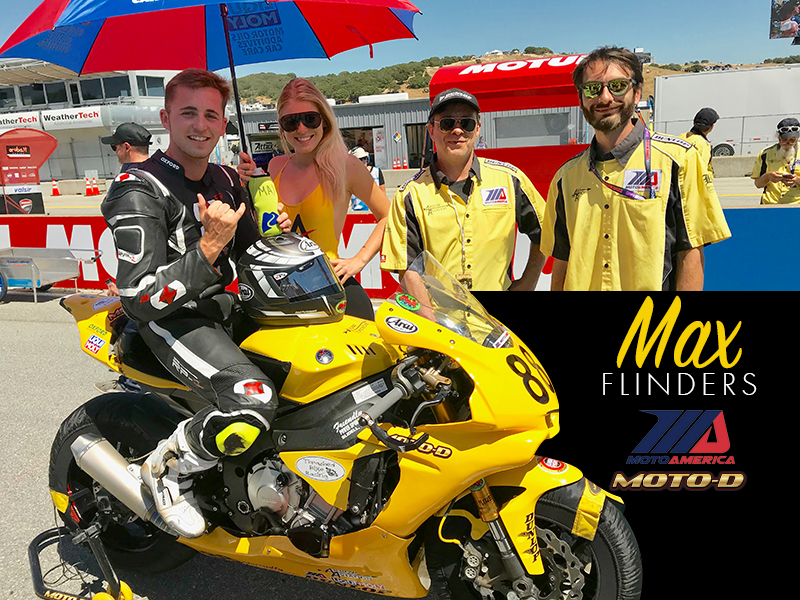 Max Flinders drove across across the country to Round 5 of the MotoAmerica Superbike Championship in Laguna Seca to represent Arrow Aviation, MOTO-D, Spark Exhaust, and Friendly Powersports. Flinders who always has a smile on his face started with a Thursday interview with BeIN Sports, great to see our sponsors getting a look in on the video! We also met up with the infamous WSBK Mick Hill (twitter - @mhillofficial ) who runs the "all weekend paddock show" this is always fun and Mick supports the team and Max especially with a funny singing of a Frank Sinatra song in front of the paddock. Progress started off slowing with the bike Yamaha R1 struggling in Session 1 but by Session 2 it was operating much better. Flinders qualified a disappointing 15th on the grid which was further compounded with a poor start (wheelie) dropping him back down the field, he fought back, fighting front end chatter for a 14th place finish. Race 2 saw a better start and Max found his way up into 12th place where he was putting in consistent 1:28 laps (the mid field of WSBK were running 1:26 laps). Flinders was using MOTO-D Tire Warmers and Stands plus a Spark Full Titanium R1 Exhaust System during the race.
The next round for MotoAmerica is July 20-22 at Utah Motorsports Campus in Toelle (Erda) Utah.
Learn more about MOTO-D Performance Riding Sportbikes parts and accessories including MOTO-D Tire Warmers and Stands, Bonamici Racing Rearsets and Levers, IRC Quickshifters, and Spark Exhaust Technologies.

comments powered by

Disqus