Posted by MOTO-D on 9th Jan 2016
A question that many racers and trackday riders want to know is "who makes the best tire warmer"? With so many brands on the market it's hard to understand what's really inside a warmer and to know which is the best.
In this article we'll show you what separates MOTO-D Tire Warmers from the others and why they should be your first choice when shopping for a quality warmer that will give you confidence come Turn #1.
Yeah but "I found a cheap pair of warmers off eBay" - there are many no-name brands available online but can you call them on the phone to ask questions? What do you do if you have a warranty issue? How do you know the warmer actually heats? In almost every case of a cheap eBay tire warmer, we have found they don't reach temperature due to their inferior insulation, poor wiring diagram, and thin heating wire - don't be fooled by colors or new names popping up from eBay resellers. These mainly Chinese tire warmers (here's a picture of the most popular cheap motorcycle tire warmer sold on eBay but it only reaches 155'F on Top / 145'F on Bottom) far short of the industry standard 175'F (85'C).
It is often said, "buy right, buy once" but this does not mean you must buy the fancy or most expensive pair of warmers to get the best. Sometimes the most expensive warmers on the market are not the best but just the most expensive becuase they are loaded with the costs of large marketing, advertising, and sponsorship budgets. Roadracing is an expensive sport, look a little deeper.................
MOTO-D Tire Warmers are a premium choice based on the following: Temperature, Durability, Carbon Wire Technology, Homogenous Heating, Power Useage, Case, Warranty, and Customer Service.
Temperature: while others claim they reach 175'F many don't, MOTO-D Tire Warmers heat to a class-leading 185'F (85'C) ensuring a heat soaked tire less likely to cold tear and giving maximum grip.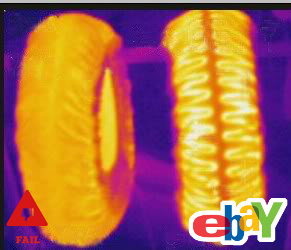 Durability: no skimping on materials, MOTO-D uses high quality fire retardent insulation, silicon encased switches to prevent rust and oxidation of internal components, a wind stopping exterior shell, and attention to detail during production.
Carbon Wire Technology: put away the brittle copper wire that burns out, MOTO-D uses Carbon Wire Heating Technology (straight from Formula 1) which can be twisted and crushed without failue or risk of dead-spotting, they heat 25% faster than thin copper wire warmers.
Homogenous Heating: heat on the top of the tire is good but MOTO-D heats on the Top, Side, and Down to the Rim. MOTO-D's Carbon Wire Heating Wire is dispersed from edge-to-edge for the most even heating.
Power Useage: most tire warmers use 1,000 - 1,100 watts which can strain your generator and trip outlets in the paddock garage, MOTO-D Tire Warmers use only 750/watts per pair.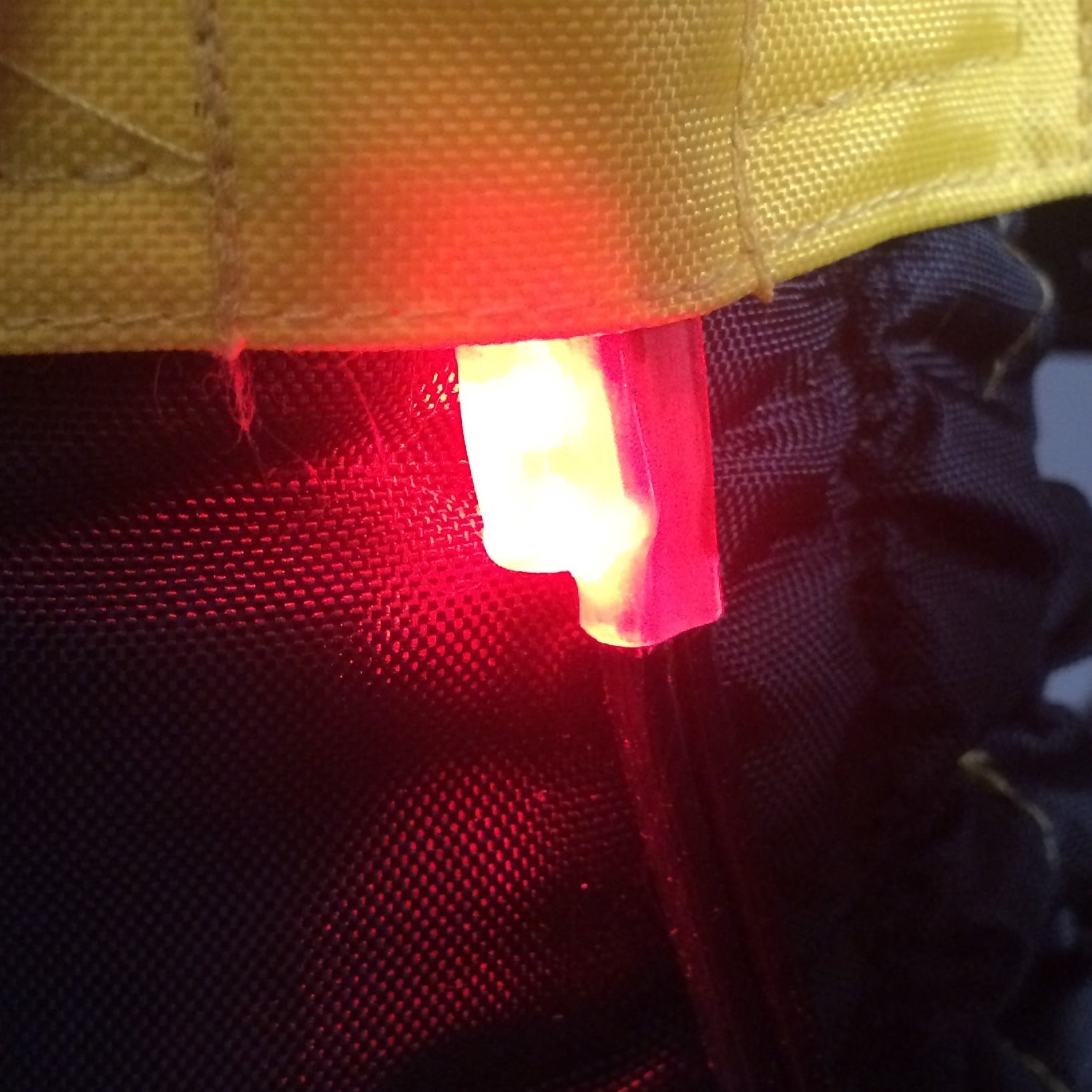 Case: unlike others which give you a cheap nylon bad, MOTO-D Tire Warmers come in a zippered EVA carrying case. If you got nice warmers, keep them dry and protected, so they will be ready when you need them!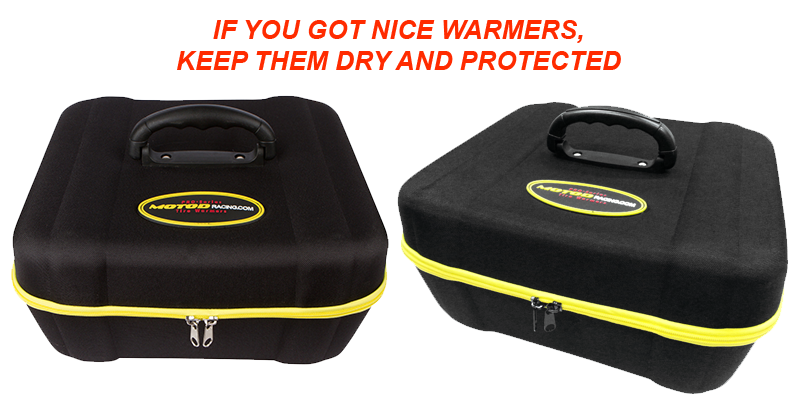 Warranty: The BEST tire warmer warranty on the market period. MOTO-D Pro-Series Tire Warmers are backed with a 2-Year USA Warranty included, if they fail due to a manufacturing defect we repair or replace at our discretion, MOTO-D performs all service and tire warmer repair in house.
Customer Service: no need to call China or send emails to a mysterious address, call MOTO-D if you have questions on how to use our warmers or just wanna talk bikes. MOTO-D proudly supports, repairs, and performs all tech support from their shop in New York USA. OR better yet find us at a track near you (click here).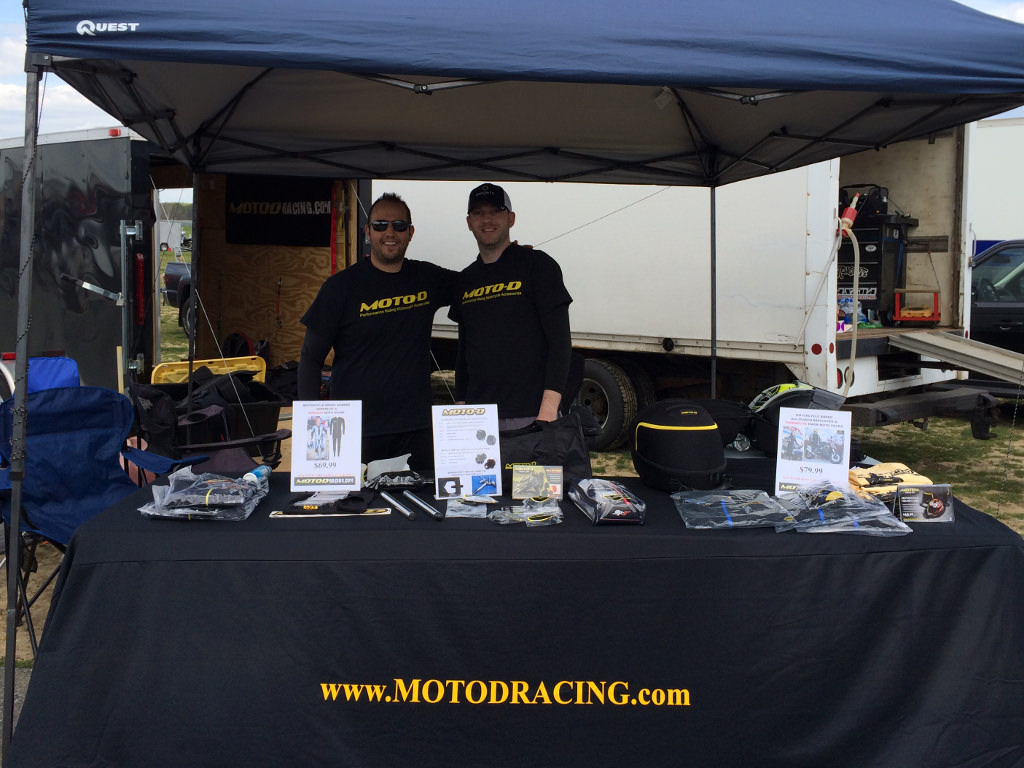 So in conclusion, choosing a warmer is more than just looking at the cheapest price on eBay or looking at what you see the paid to use - sponsored Pro's use. Add up all the features and decide which is right for you, we hope to have you in our MOTO-D family soon. Ride Safe.
comments powered by

Disqus