Posted by MOTO-D on 20th Dec 2017
One vital tool that's needed for any single-sided rear swingarm motorcycle is a rear motorcycle stand. The optimal choice is the MOTO-D "Pro-Series" Single-Sided Swingarm Rear Stand. Sometimes referred to as Arm Stand or Rear Paddock Stand, MOTO-D is definitely your brand of choice for the Single-Sided Swingarm Stand.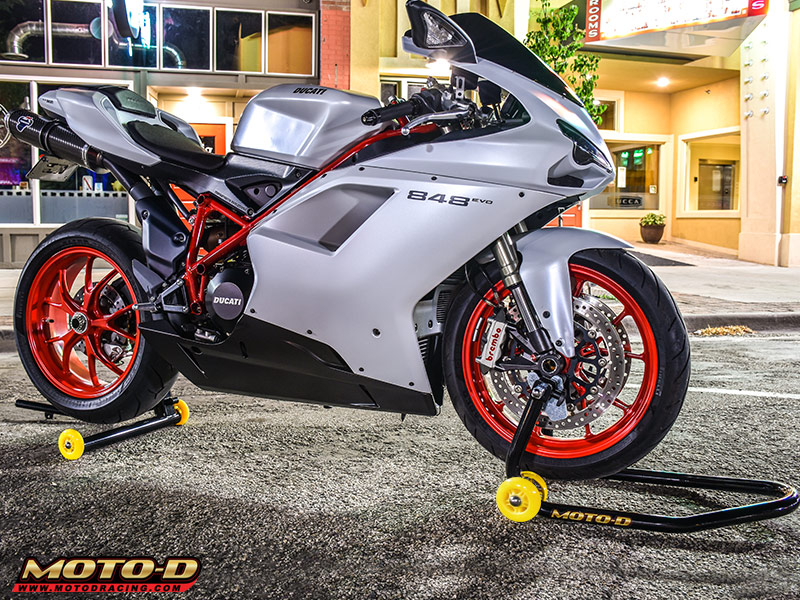 The stand arrives with the axle pin needed for your bike, whether you ride one of the following single sided swingarm motorcycles from BMW r9T, Ducati Panigale, MV Agusta F4 / F3, KTM Superduke, Triumph Speed Triple, Kawasaki H2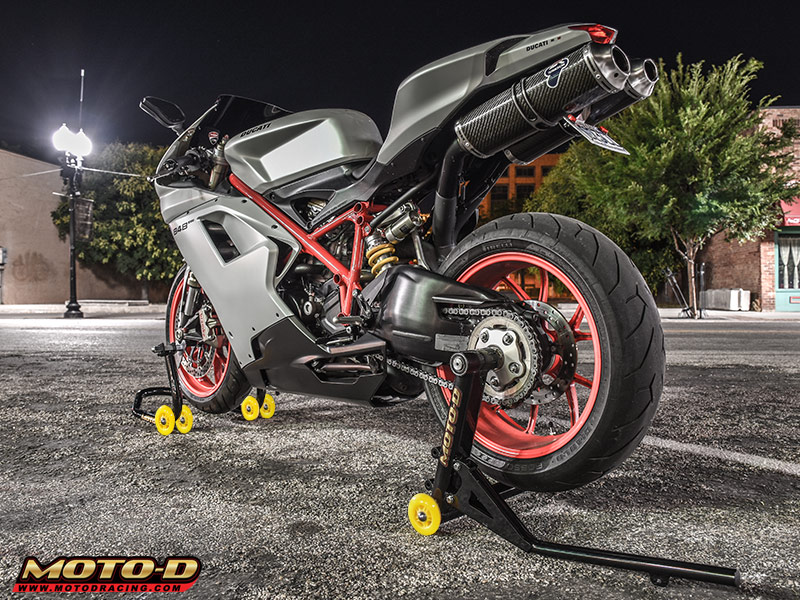 MOTO-D "Pro-Series" Single Sided Swingarm Stand is handcrafted from a steel-tube design, and was designed to outlast your bike. MOTO-D "Pro-Series" Stands used a precision-lathed axle pin inside a rolling bearing for smooth rear wheel rotation while you lift up the back of your motorcycle up. Also aiding in this smoothness are the large, soft-rubber yellow wheels. Pair with the MOTO-D Front Fork Stand or the MOTO-D Headlift Triple Tree Stand for the ultimate combo.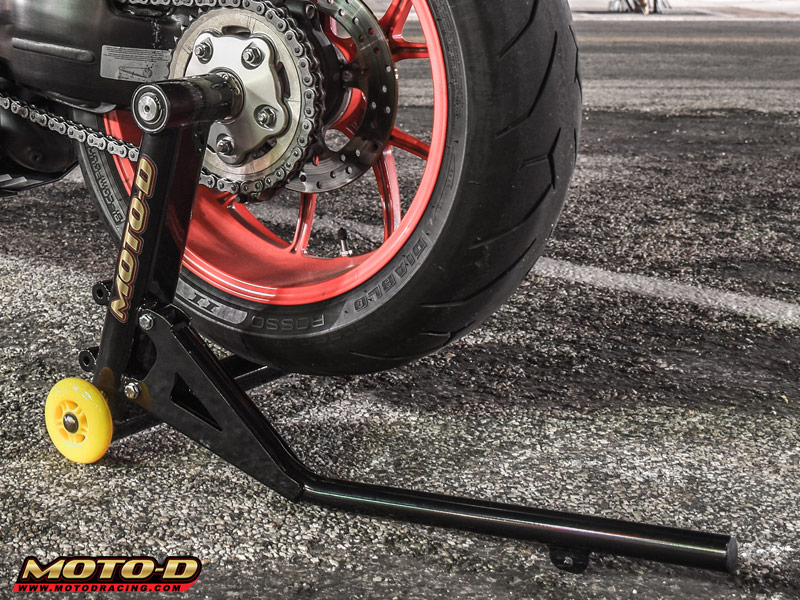 The handle is upward sloped so it won't bash your fingers off when lowering (you need fingers to ride) and the handle is also reversible*, allowing you to save additional space when working in tight garages or paddocks. The smaller style also helps the swingarm pack away nicely, whether in the trailer used for the race track or in your garage while you're out riding.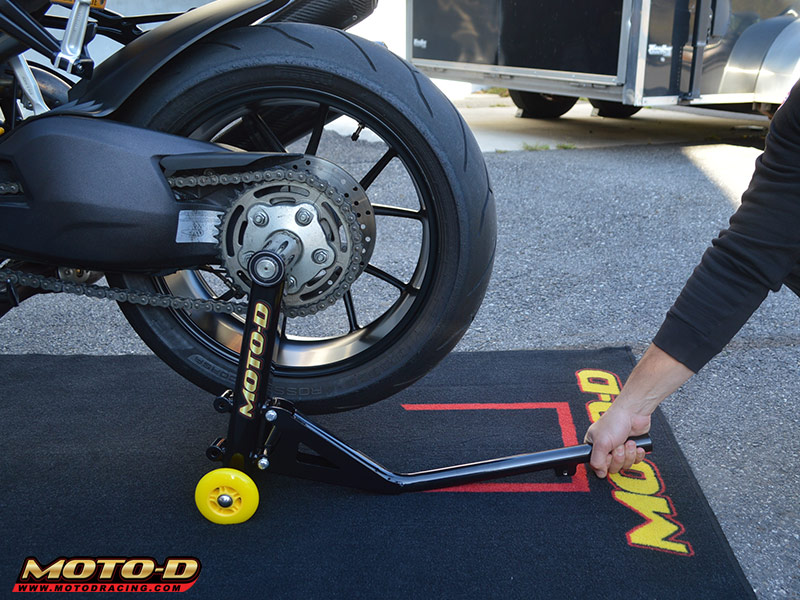 In typical MOTO-D style, the "Pro-Series" Single-Sided Swingarm Rear Stand, carries a Lifetime Limited USA Warranty, and arrives in a high-gloss powder-coat black color finish with yellow wheels that spin on bearings.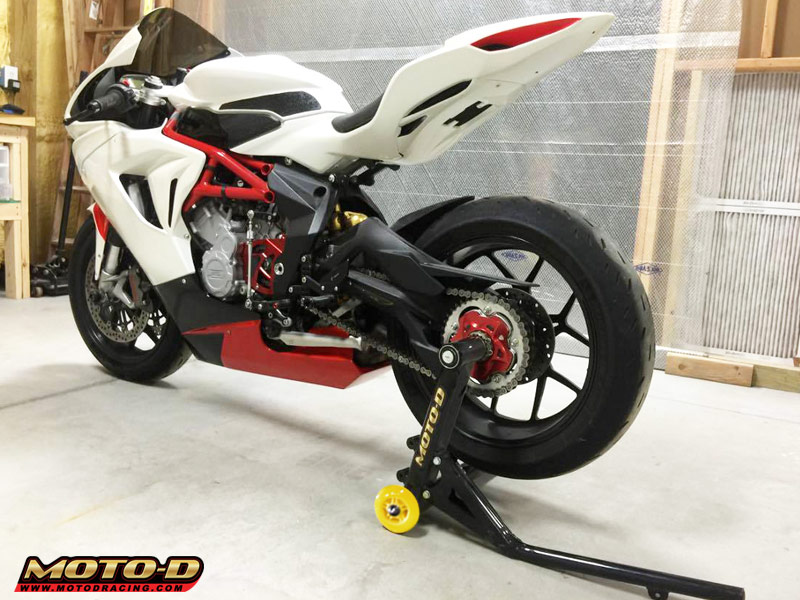 Following are the axle pin sizes available, along with examples of bikes that use them:

● 53.5MM: BMW R nineT
● 42.5MM: MV Agusta: 1090/R/RR (2010-2015), Brutale 675 (2012-2015), Brutale 800 (2013-2015), Brutale 920 (2011-2013), F3 675 (2012-2013), F3 800 (2013-2015), F4 1000 (2004-2015), Rivale (2013-2014)
● 40.5MM: Ducati Panigale 1199, DUCATI Panigale 1299, Ducati 1098, Ducati 1198, Monster 1200, Ducati Streetfighter S, Ducati Diavel, Ducati Multistrada 1200/S
● 27.5MM: KTM Superduke 1290, Triumph Speed Triple 955 (2005-2011), Speed Triple R (2012-2013), Honda VFR 750/800, Honda VTR 1000
● 25.5MM: Ducati Hypermotard 796 - 939 - 1100, Hyperstrada, Monster 796-1100, Ducati 848, Ducati Streetfighter 848, Ducati Multistrada 1000/1100, Ducati 749, S4R, S2R, 916-998, MH900E
● 23.5MM: Kawasaki H2 / H2R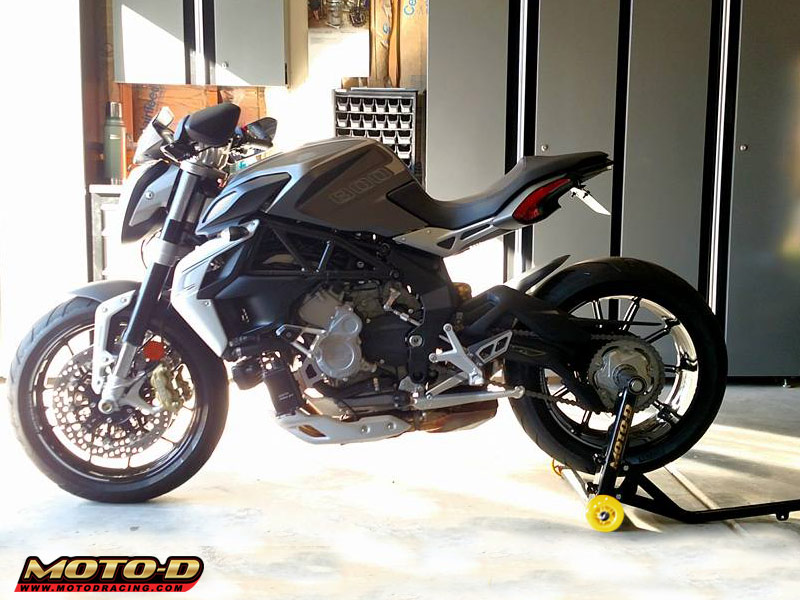 Learn More About MOTO-D "Pro-Series" Rear Single Sided Swingarm Motorcycle Stand > (click here)

comments powered by

Disqus