Posted by MOTO-D on 14th Feb 2018
Enter the newest small sportbike on the market vying to be king of the lightweight class, the 2018 Kawasaki Ninja 400. Now match Kawasaki's newest sportbike with Bonamici Rearsets, 3-Piece Engine Case Savers, Clip-Ons, Folding Levers, Keyless Race Gas Cap, and Brake Lever Guards for the ultimate bike on the grid.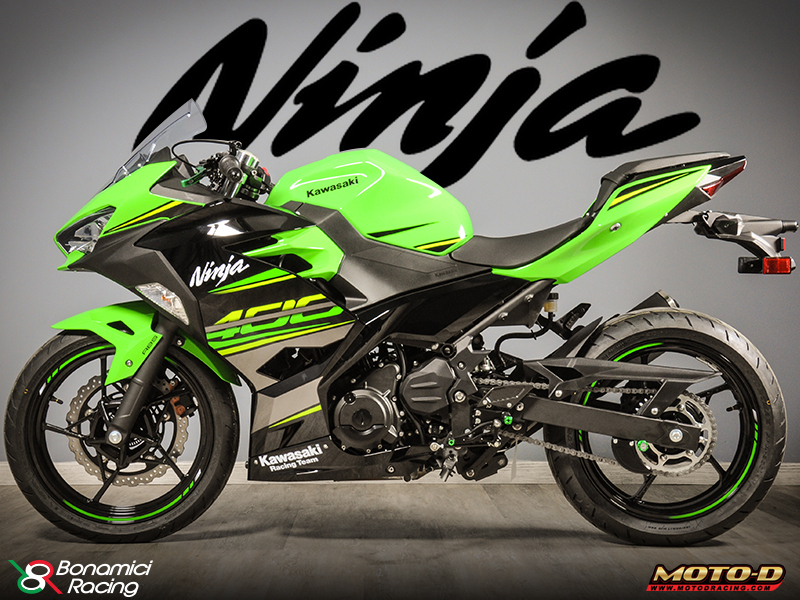 The biggest update to the little Ninja for 2018 is the all-new 399cc parallel twin that Kawasaki says will produce 45 hp at 10,000 rpm and 28 pound-feet of torque at 8,000 rpm. That's much higher then some of its biggest competitors like the Yamaha R3 and KTM RC 390.

Bonamici Kawasaki Ninja 400 Rearsets add an edge over stock pegs, they feature CNC Machined parts that meet World Superbike Racing expectations. Footpegs are high-grip and slotted to break away in a crash. Toe Pegs can be upgraded for racers to "backward-folding" which resists breaking in a crash.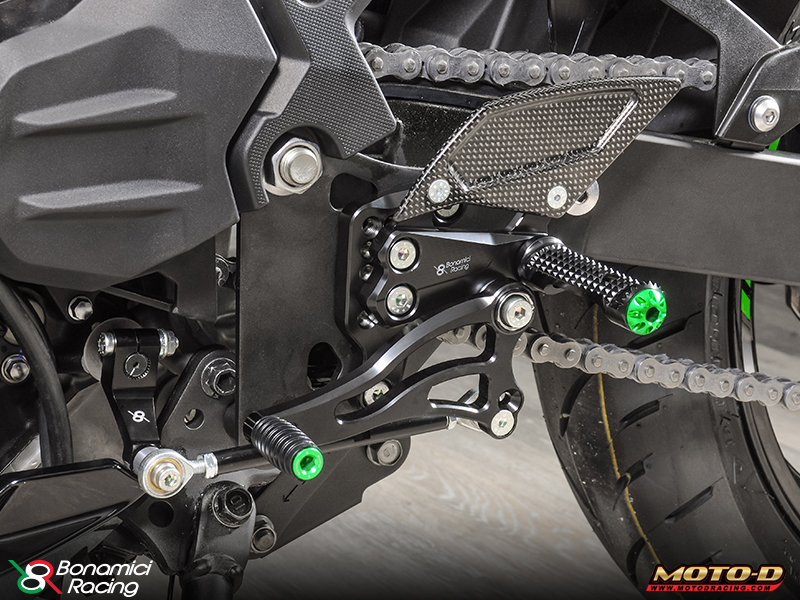 Bonamici Rearsets for the Kawasaki Ninja 400 are Adjustable Up / Down and Forward / Back for a great rider feel. Ninja 400 Rearsets are available in black anodized finish but can be produced with custom colors, racer logos, colored accent pieces, and even a carbon fiber heel plate.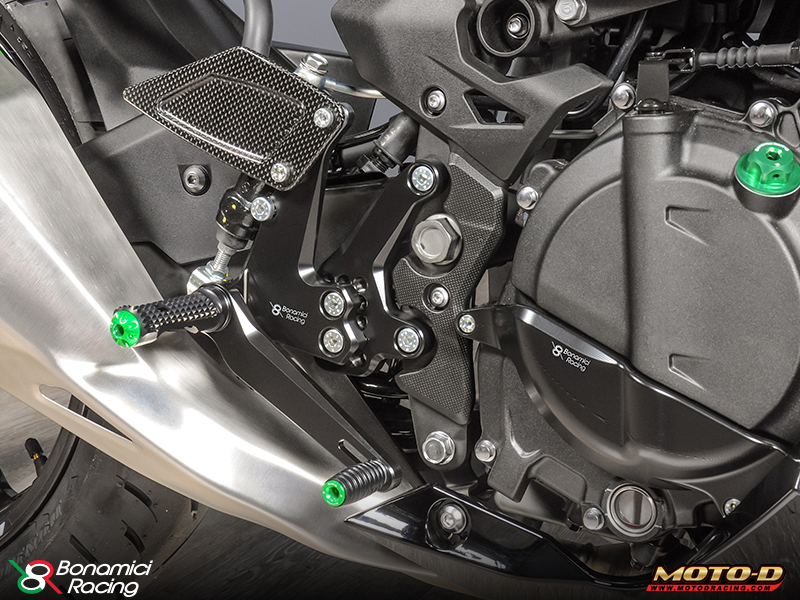 Unfortunately bikes do go down which is why Bonamici produces some of the strongest case savers on the market. Ninja 400 Case Savers by Bonamici come in a 3-piece kit and secure the engine case and vital clutch areas from impact damage without adding bulk or weight. Don't cheap out on protecting your engine externals, Bonamici case guards are much stronger than cheap plastic substitutes that don't last or are a one-time use product which will cost you more in the long run.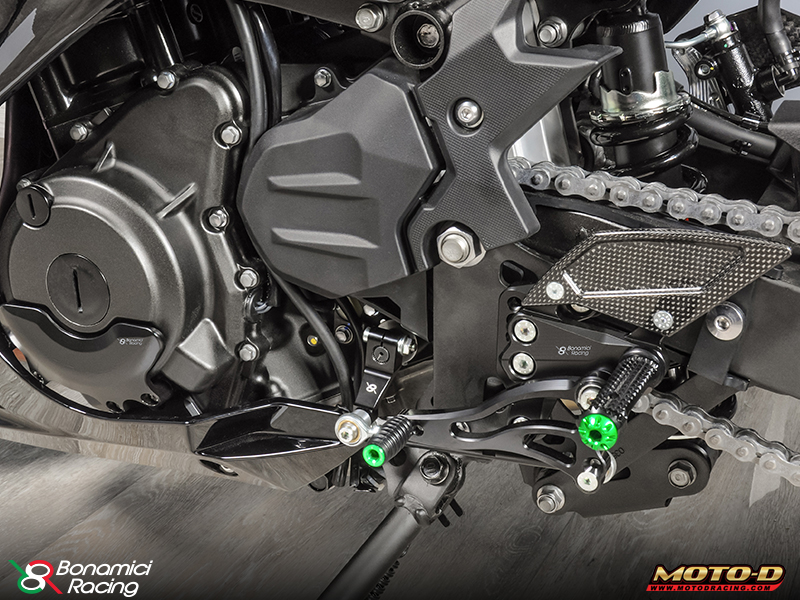 Performance riders know that it's your feet and hands that make the primary contact points on a bike, Bonamici Brake & Clutch Levers for the 2018 Kawasaki Ninja 400 are solid in feel and designed with a ribbed texture on top for improved feel under heavy braking. Machined in Italy to a very low tolerance, they provide a tight and exact fit and finish that is "hands down" above the rest.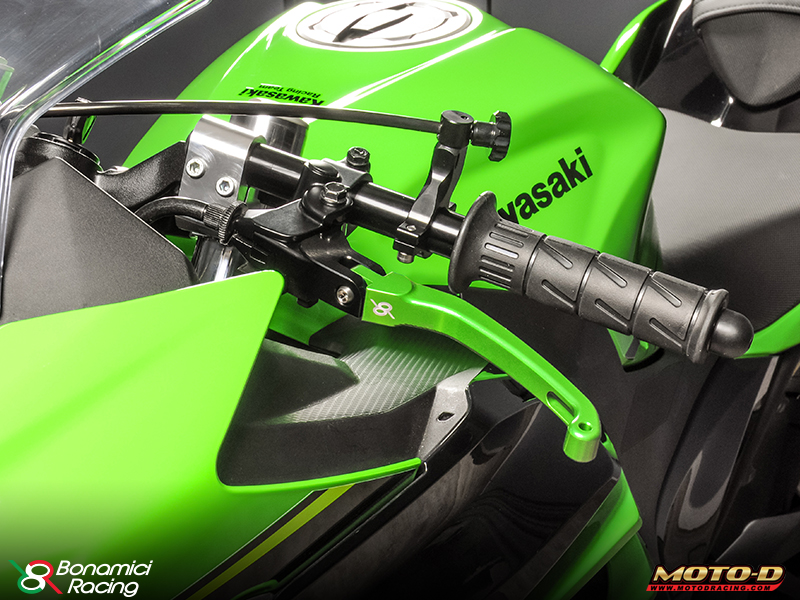 Also Available from Bonamici for the 2018 Kawasaki Ninja 400
● Lower Swingarm Chain Shark Guards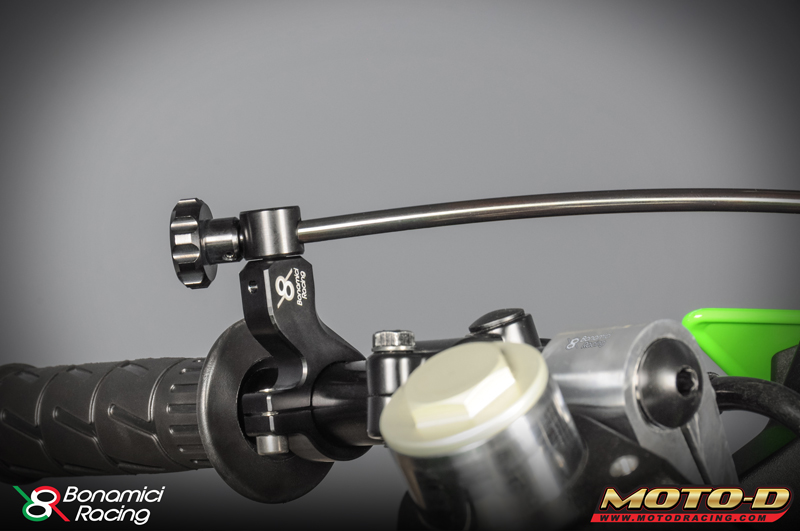 If your one of the lucky owners of this bike, check out all the Kawasaki Ninja 400 Performance Parts from MOTO-D, Bonamici, Spark Exhausts, and IRC Components at www.motodracing.com/kawasaki-sportbike-track-day-race-parts

MOTO-D is the exclusive North American Distributor for Bonamici Racing Italy. For more info visit www.motodracing.com
comments powered by

Disqus