Posted by MOTO-D on 12th Feb 2018
One of the best ways to improve your lap times during track days or to build confidence on the street is to upgrade your footing with the Italian made Bonamici Rear Sets for the 2017+ Suzuki GSX-R 1000 Sportbike. They are highly adjustable rearsets capable of upping your game, while enhancing that mean "GSX-R" look.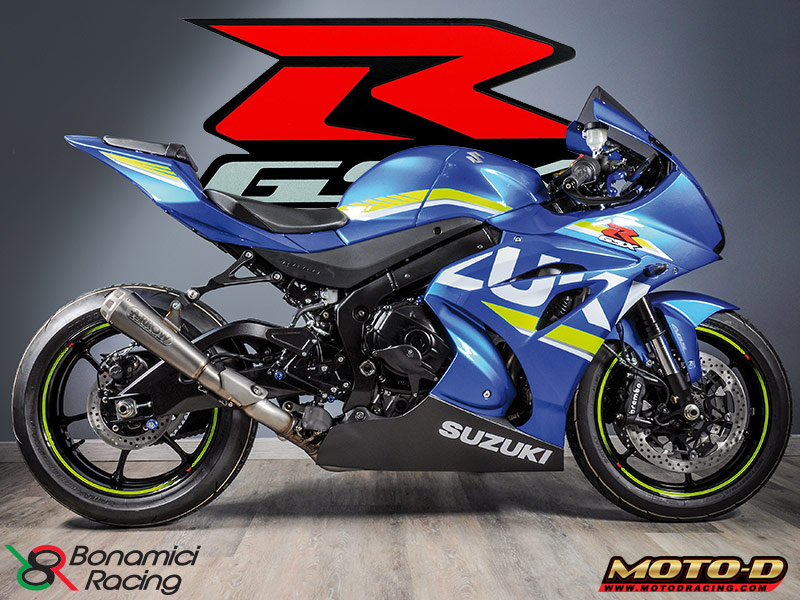 For 2017, Suzuki had revised its top GSX-R 1000 sportbike which last saw a major revision in 2009. Some of the most substantial changes were in the electronics department with the bike now having ABS with Suzuki's Motion Track Rear-Wheel Lift Mitigation Function, Traction Control and Wheelie Control.

Bonamici Suzuki Rearsets unleash the Gixxer's capabilities by optimizing footpeg grip for the rider, no slippery pegs here and no wobbly parts, the rider can immediately feel the quality in the design and craftsmanship from the Bonamici factory which produces rearsets for World Superbike Teams who demand excellent fit.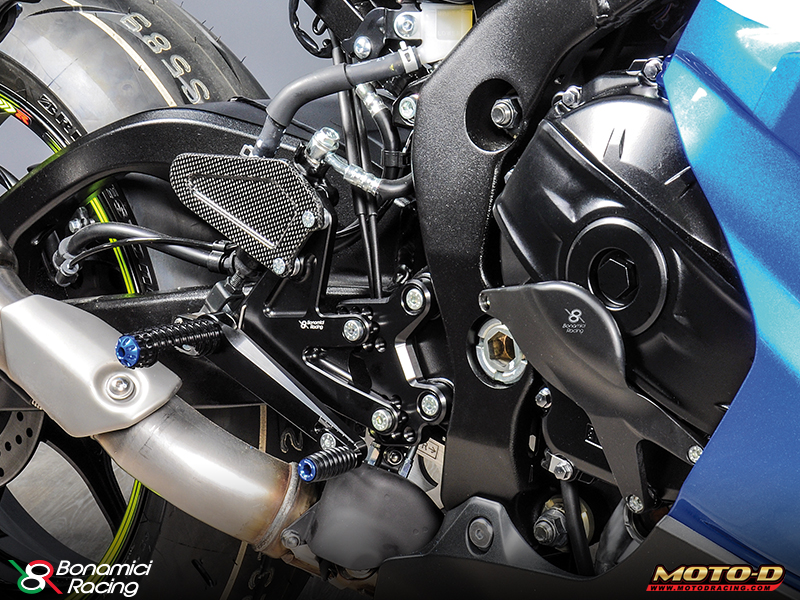 The Bonamici Suzuki GSX-R 1000 (17+) rearsets are highly adjustable with positioning for the footpeg and toe peg, rearsets are anodized black but can be ordered with custom colors, team logos, and an optional carbon fiber heal guard. Footpegs are replaceable and available in both standard high grip and ultra-high racer grip.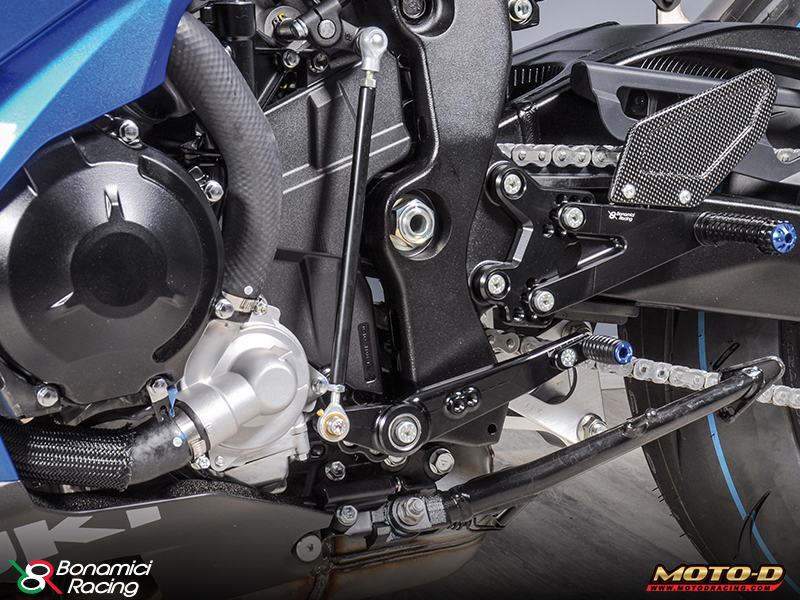 What makes the Bonamici rearsets additionally stand apart from the others is the use of bearings to completely eliminate friction on the foot lever; the rear brake lever also has a spring-loaded return.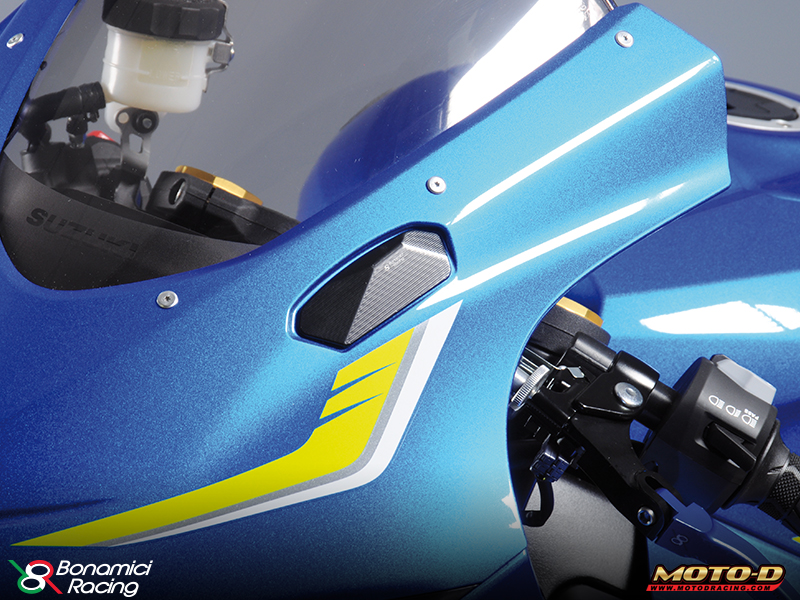 The 2017 Suzuki GSX-R 1000 rearset kit arrives with:
● Rearset plates
● Footpegs
● Heel guards
● All of the needed hardware (shift rods, etc), including SAE Grade 8 Bolt Hardware.
The Bonamici GSX-R rearsets, which fit both the base GSX-R1000 and the upgraded GSX-R1000R, are designed based on Bonamici's experience as a technical partner for several Superbike Race Teams and in European / Italian Motorbike Championships. Learn more about Bonamici at www.motodracing.com/bonamici
Racers also should consider the Bonamici Shark Guard Chain Protector available in T-6061 Alloy and Carbon Fiber. In a crash, a shark guard can prevent leg and foot contact with your chain.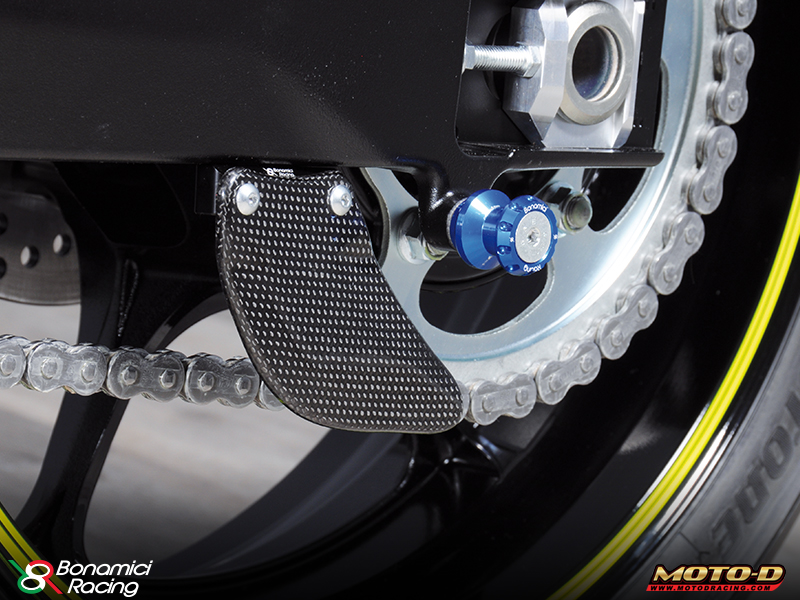 Bonamici also offers 2017+ Suzuki GSX-R 1000 Mirror Block Off Plates, Case Savers, Oil Reservoir Tanks, Chain Adjusters, and Levers to complete the look and performance of the K17 model GSX-R 1000.
For additional information on Suzuki GSX-R 1000 Performance Parts from MOTO-D, Bonamici, Spark Exhausts, and IRC Components visit www.motodracing.com/suzuki-sportbike-track-day-race-parts

MOTO-D is the exclusive North American Distributor for Bonamici Racing Italy. For more info visit www.motodracing.com
comments powered by

Disqus