Posted by MOTO-D on 13th Oct 2017
Handcrafted in Italy, Bonamici Brake Lever Guards are a must for motorcycle safety. Brake lever guards are vital for protection from the unknown, such as a fellow rider bumping your brake lever. Don't think this just happens while on the track; it's also a huge possibility during serious street riding, especially when lane-splitting is occurring among multiple riders.
In regards to the race track, you only have to look to MotoGP, where, like many other racing series both national and international, brake and clutch-lever guards are mandatory.
Purchase Bonamici Brake & Clutch Lever Guards > (click here)
The International Motorcycling Federation (FIM) made these guards mandatory in MotoGP back in 2011, stating: "Motorcycles must be equipped with brake lever protection, intended to protect the handlebar brake lever(s) from being accidentally activated in case of collision with another machine."
Brake lever guards obviously can keep your race bike from flipping front over (endo) if another rider hits your front brake lever. But they're not only for the racetrack; protecting you bike's brake levers on the street can prevent some serious crashes. They can save you some risk when dealing with reckless lane splitters.
Used in MotoGP and World Superbike, Bonamici brake lever guards are extremely strong, attractive, anodized for durability. They also only weigh 2.78 oz. A thread locking glue or tape is recommended for proper installation.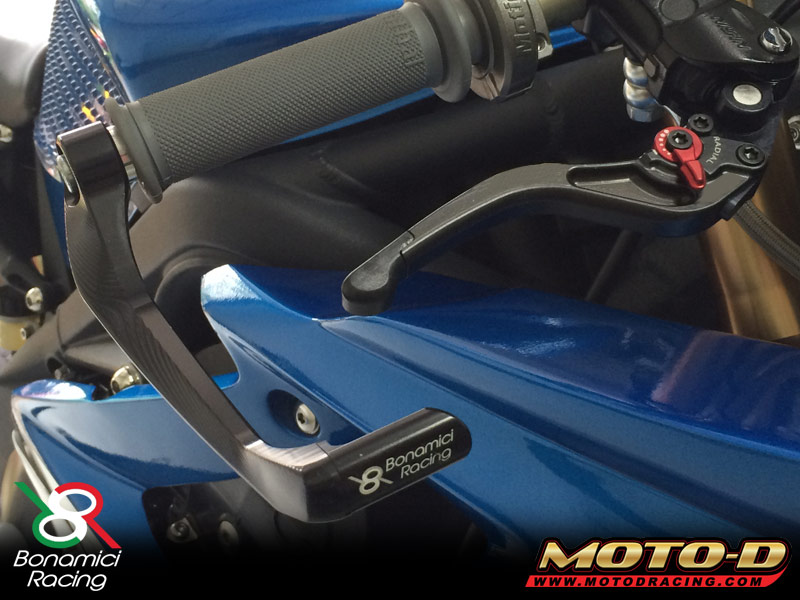 Bonamici front brake-lever guards also help protect your hands in case you do impact something. And they do this all while adding some styling to your sportbike.
Lever Guards are available with Replaceable Color Front Tips in the following colors:
● Red
● Blue
● Gold
● Green
● Silver
● Black
Bonamici Brake Lever Guards, which fit 7/8" standard size aftermarket clip-on bars, are designed with a black-anodized tip front, which is machined from T-6061 aluminum.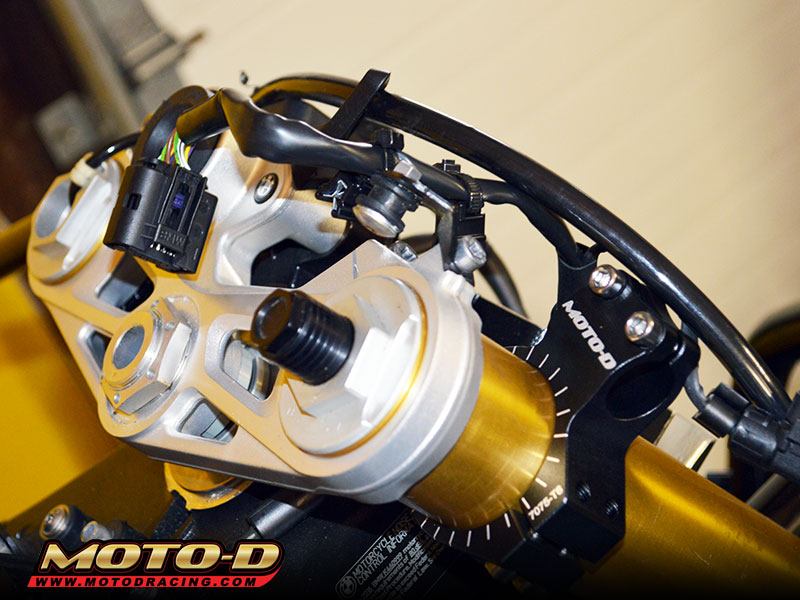 Learn More About MOTO-D Clip-On Bars > (click here)


Bonamici Racing products are the result of an accurate engineering and design process performed in-house by laser scanning each motorcycle in their factory located in Otricoli, Italy. Bonamici produces racing rearsets, engine case-savers, clip-ons, and folding levers in the highest grades of titanium, aluminum, magnesium, and steel alloys. Bonamici is able to assist customers and provide them with the best solutions to optimize their bike based on rider feedback. Technical support is provided by the Bonamici North American Distributor which can solve any problems with care.

MOTO-D is the exclusive North American Distributor for Bonamici Racing Italy. For more info visit www.motodracing.com
comments powered by

Disqus