Posted by MOTO-D on 19th Dec 2017
Looking for the best rearsets for your Ducati Streetfighter? Produced in Otricoli, Italy by Bonamici Racing, their adjustable Ducati Streetfighter 848 / 1098 Rearsets perform and look amazing!
Made in Italy using CNC technology for tight fitting parts that fit perfectly on the bike and give the rider an exact feel. Bonamici rearsets use bearings, which eliminate friction on the foot lever for silky shifting and braking.
Learn More About Bonamici Ducati Streetfighter 848 / 1098 Rearsets > (click here)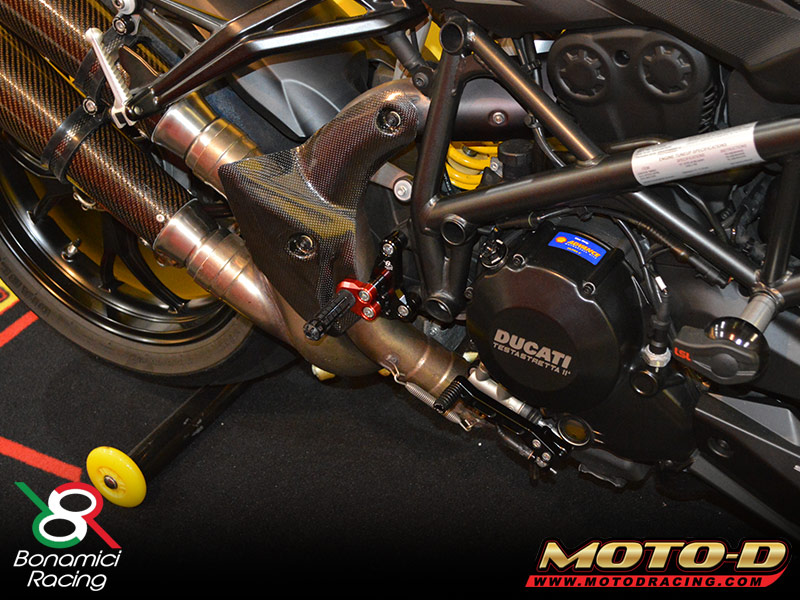 Streetfighter rearsets are available in a standard black-anodized finish with red footpeg plates (as shown), making them strong, attractive, and resistant to mechanical or chemical wear.
The Bonamici Ducati Streetfighter 848 / 1098 rearset kit includes rearset plates, footpegs, carbon fiber exhaust guard, heel guards and all of the needed hardware to install including SAE Grade 8 Bolt Hardware.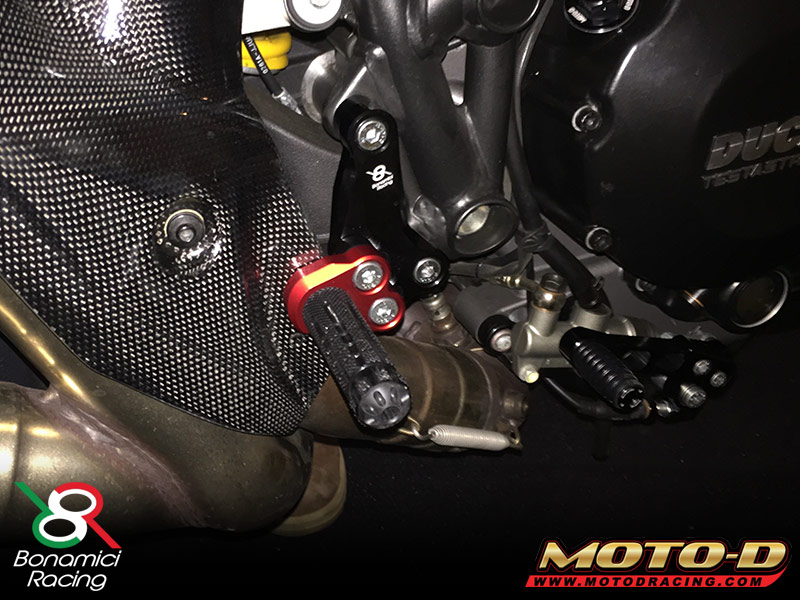 With spirited motorcycle riding in mind, the Bonamici rearsets were designed to optimize position and foot grip. They also provide higher ground clearance great for the aggressive street rider and even for trackday racers.
A low-strength thread locking agent (i.e. Loctite Threadlocker Blue 242) is highly recommended to be applied to all retaining bolts during installation.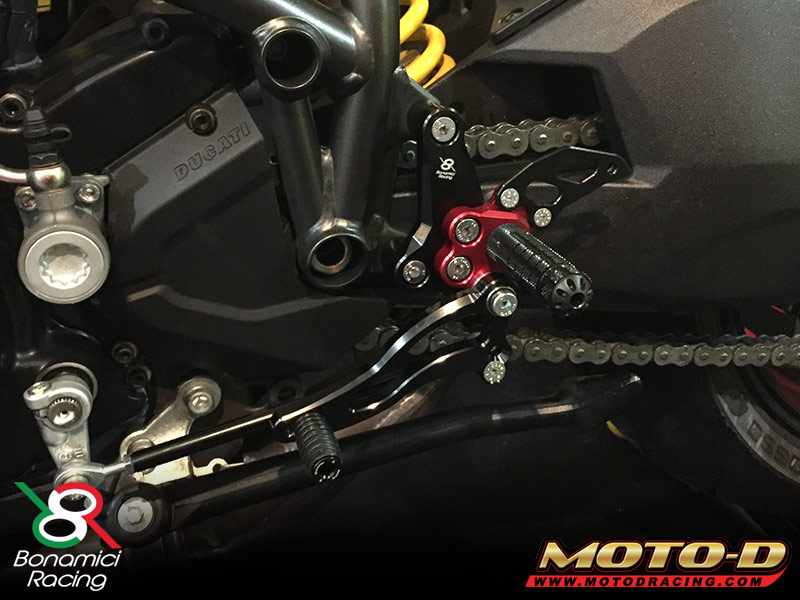 Learn More About Bonamici Ducati Streetfighter Folding Levers > (click here)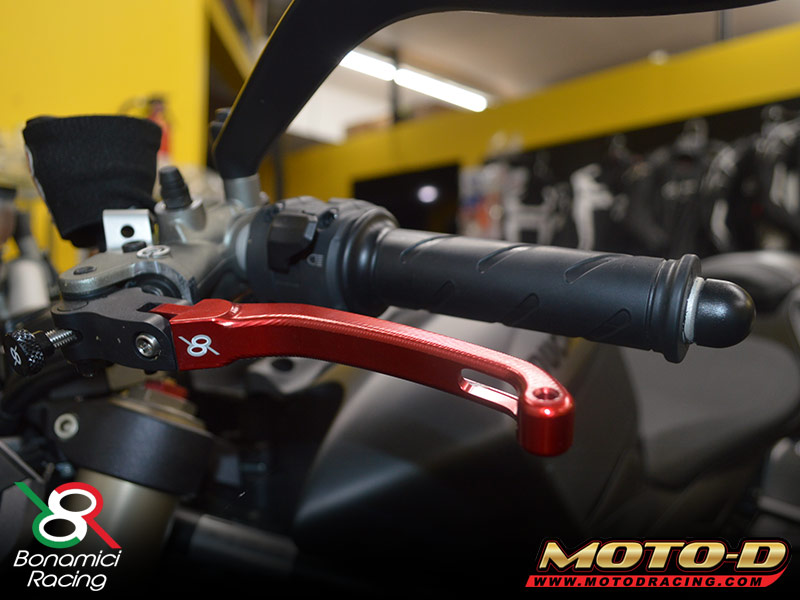 Learn More About MOTO-D Ducati Single Sided Rear Swingarm Stands > (click here)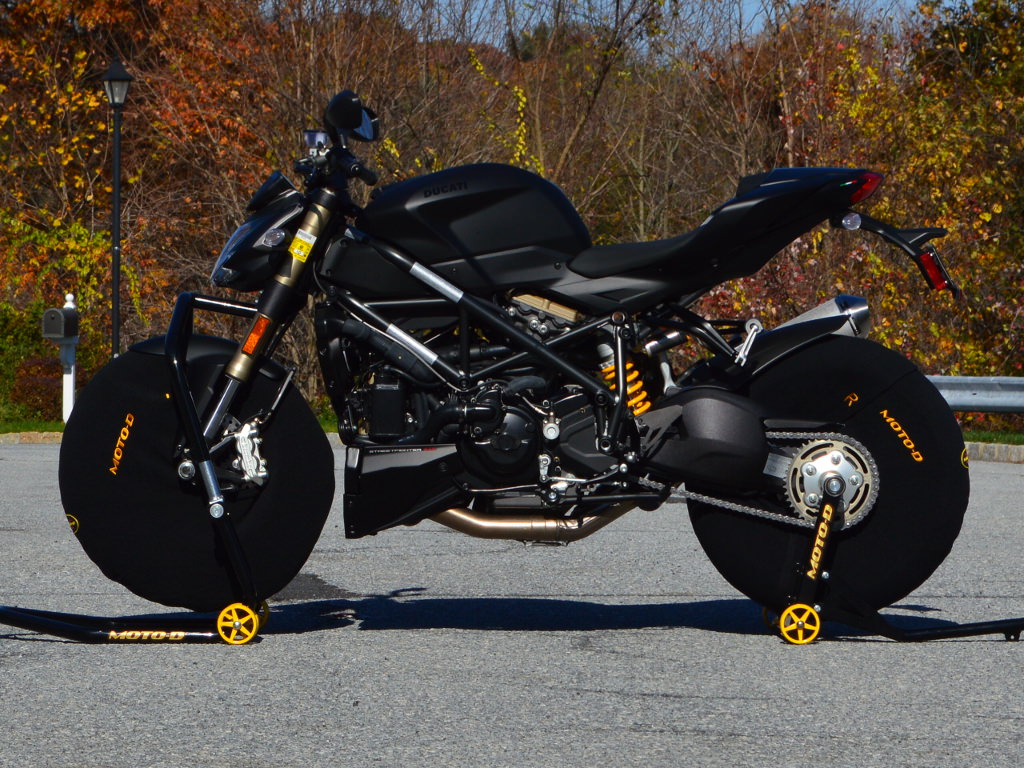 Bonamici Racing products are the result of an accurate engineering and design process performed in-house by laser scanning each motorcycle in their factory located in Otricoli, Italy. Bonamici produces racing rearsets, engine case-savers, clip-ons, and folding levers in the highest grades of titanium, aluminum, magnesium, and steel alloys. Bonamici is able to assist customers and provide them with the best solutions to optimize their bike based on rider feedback. Technical support is provided by the Bonamici North American Distributor which can solve any problems with care.

MOTO-D is the exclusive North American Distributor for Bonamici Racing Italy. For more info visit www.motodracing.com
comments powered by

Disqus