Posted by MOTO-D on 6th Jan 2015
When Old Man Winter comes knocking on your motorcycle door and it's time to finally put your baby away for a couple of months here are two great products from MOTO-D that can help keep your tires and brakes in good condition.
1. Lift your tires off the cold concreate floor. Tires sitting on a cold dirty floor dry out (dry rot) and can develop a "flat spot" making them uncomfrtable to ride on. The latest offerings from the tire manufactuers offer amazing grip but good tires aren't cheap so protect them. Even worse, freezing temperatures have been known to cause full cracks in tires leading to chunking which renders the tire unsafe and useless. A great way to lift your tires (and bike) off the floor is with a pair of motorcycle stands from MOTO-D. Starting at only $129.99/pair, a small investment in a pair of front fork and rear swingarm stands could easily save your tires during storage and mean they'll be ready to go once season begins. For more info on MOTO-D Motorcycle Stands visit www.motodracing.com/pro-series-motorcycle-stands
2. Keep dirt, bugs, and salt out of the brake calipers and rim. During the winter, bugs, spiders and other insects love making homes inside your wheels, I've seen cobwebs around the bike after it sat in my garage for only a few short months. Keep your rims, brakes, and tires clean and dry using a fleece tire wrap from MOTO-D. Made from polar fleece, it completely seals off the front and rear wheels from unwanted visitors and any other foreign materials (salt, sand, mud, etc). Only $49.99/pair, for more info on the MOTO-D Polar Fleece Tire Wraps visit www.motodracing.com/pro-series-tire-warmer-covers
See you in the Spring!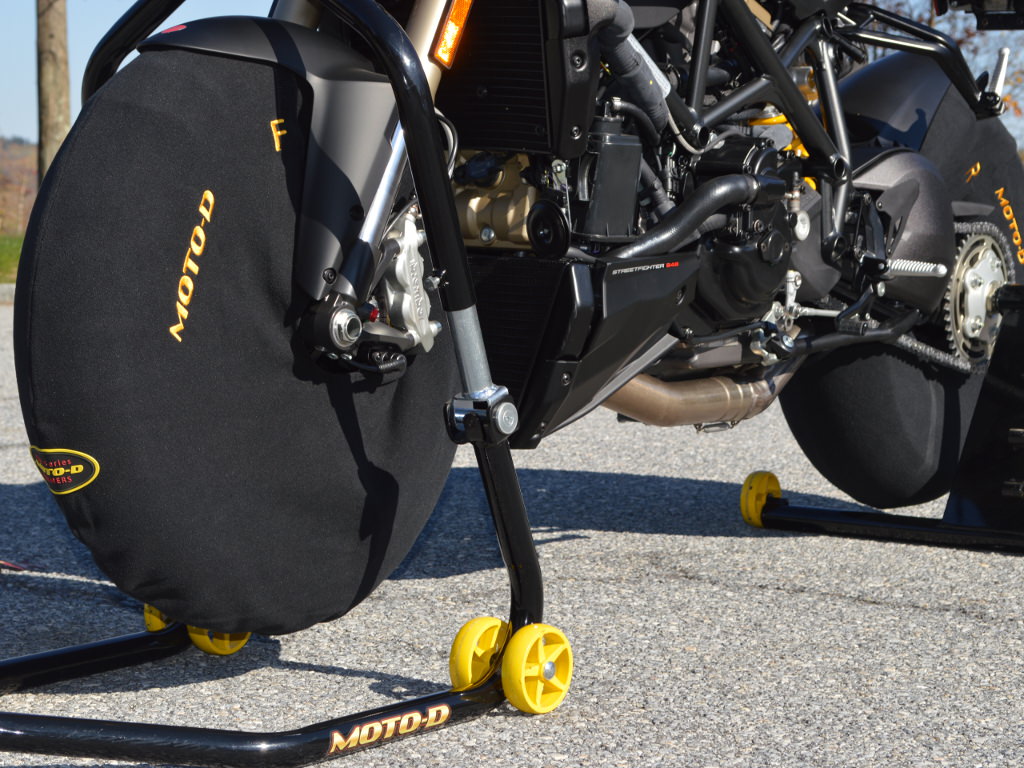 comments powered by

Disqus