Posted by MOTO-D on 26th Jul 2017
JOE ROBERTS JOINS THE AGR WORLD CHAMPIONSHIP PROJECT USING SPARK EXHAUST TECHNOLOGY. MOTO-D is the exclusive Dealer for Spark Exhausts in North America.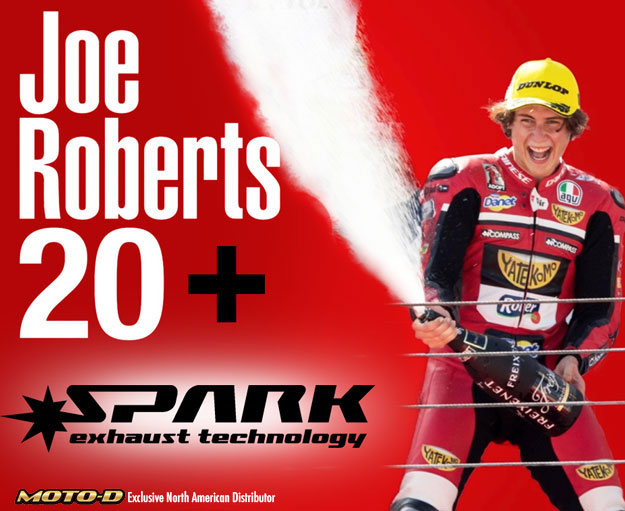 The Moto2 Argiñano & Ginés Racing Team has news for the second half of the World Championship season. The Team Management decided to replace Colombian Yonny Hernández as the official rider in Moto2 with one of our FIMCEV Repsol riders, Joe Roberts.
On his Epic Run Joe used the Spark Titanium GP Shorty Exhaust System on his Prototype Bike. You can find these systems here:
www.motodracing.com/spark-italy-exhaust-technologies

The American rider (Los Angeles, 16/6/1997) made his debut this year with our team in the European Championship and quickly got to grips with the Kalex and the class. Former 600cc Champion in his home country, he has achieved two podiums at the FIMCEV, and only some physical problems prevented him from getting even better results (he is 5th overall).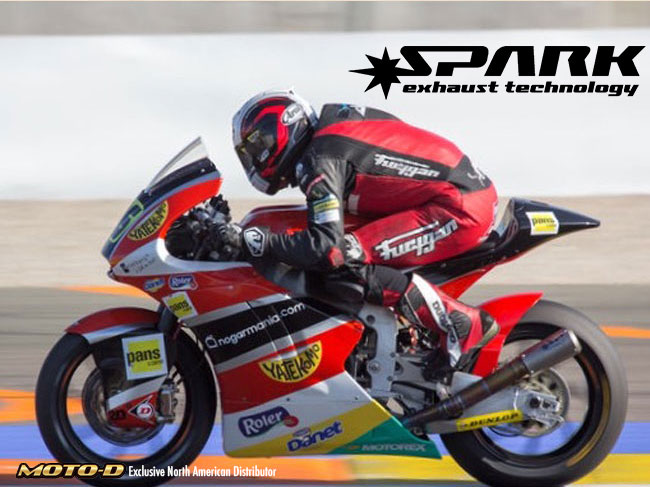 In a World Championship with no USA riders, Joe Roberts also arrives to cover that position and, for now, he will have 5 weekends to learn new circuits and the pace of the best in the world. It will not be an easy second half of the year for Roberts, as he will combine both Championships. Thinking about it, it might be a way to gather experience.

MOTO-D is the exclusive North American Distributor Spark Exhaust Technologies. The full catalog of Spark Exhausts including systems for the 2017 Yamaha R6 (Slip-On / Full System), 2017 Honda CBR 1000RR (Slip-On / Full System), 2017 Suzuki GSX-R 1000 (Slip-On / Full System) and other popular makes including Kawasaki ZX-10R / Ninja 300, Yamaha R1 / R3, Ducati Monster / Scrambler, and more can be found at www.motodracing.com/spark-italy-exhaust-technologies
Joe Roberts: "I was surprised to get this opportunity so soon. It's been my dream, ever since I was a little kid to race in the World Championship and I was hoping for next year to get an opportunity so for me to get it this year is amazing. My expectations are basically to keep learning as much as possible and hopefully make some big steps riding with these amazing riders, some of the best riders in the world. If I can come in and learn some more and keep improving with my riding, that would be amazing. From the start of this year till now I've learnt so much about this bike and the team seems quite happy with the way I'm progressing. The best thing is to keep that going and we'll see what happens. Thank you to everyone in the team for giving me this amazing opportunity. It's a dream come true."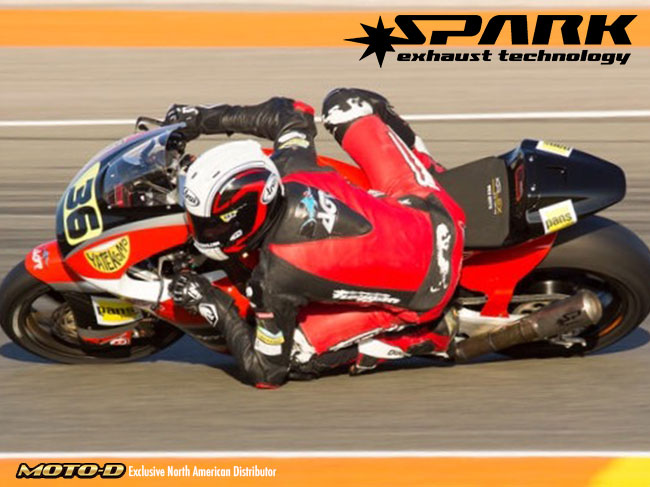 Iker Burutxaga, Team Manager: "We're very happy to have Joe Roberts with us for this second half of the World Championship. After his performances in the first few races of the FIMCEV Repsol, we considered that he was knocking on the Championship's door. We think he's a rider that has a high enough level to be among the best and that the earlier he takes that step, will be better for all. We are looking forward to seeing him compete with the best riders in the class. He will obviously need an adaptation period, and he'll need to work very hard at the beginning, but we trust his talent and we believe he'll be able to give us some good results. Of course, we want to thank Yonny Hernández for the job he has done during the first half of the year and we wish him the best of luck in his future projects".
Find Spark Italy Exhausts online at www.motodracing.com/spark-italy-exhaust-technologies and learn about their Moto GP Exhaust Slip-Ons and Full Systems, Like on Facebook at facebook.com/motodracing , Follow on Instagram at www.instagram.com/motodracing and Watch at www.youtube.com/motodracing
MOTO-D is a distributor of Performance Riding Sportbike Accessories, Parts, and Apparel including the MOTO-D Tire Warmers and Stands, Bonamici Racing Italy Rearsets and Case Savers, and Spark Italy Exhausts. Highly involved in the sportbike riding and racing community and backed by enthusiastic customer service. Founded in 2010 with motorcycle dealer accounts throughout North America, their showroom and distribution space is in Mahopac, NY. For more info visit www.motodracing.com
comments powered by

Disqus