Posted by MOTO-D on 1st Nov 2017
The Yamaha YZF-R6 was without a doubt a leader in the paddocks across many motorcycle-racing series, from MotoAmerica to the FIM Supersport World Championship, where it took the title three times in the past seven years: 2009 (Cal Crutchlow); 2011 (Chaz Davies): and 2013 (Sam Lowes).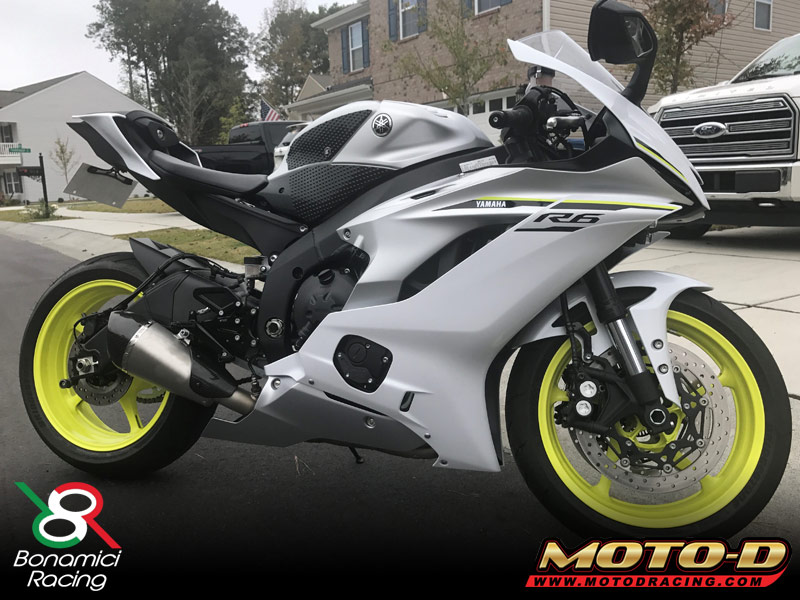 In America, the Yamaha YZF-R6 has the most victories over any other supersport motorcycle. How many? The high-rpm R6 claimed 97 percent of wins in the AMA/MotoAmerica supersport series.
The R6 had remained relatively unchanged for 10 years, but this changed for 2017 with the fourth generation, which is heavily revised over the 2015 model. The biggest changes were switchable traction control and ABS, along with new KYB suspension and an aluminum fuel tank. The bodywork also changed, the 2017 R6 now modeling its older sibling, the MotoAmerica Superbike title holding YZF-R1.
Though the '17 R6 is an optimal race and street performer directly off the showroom floor, the stock rearsets can present some issues - mainly lack of adjustability and slippery pegs. Bonamici provides the ultimate solution with their 2017 Yamaha R6 rearsets.
Learn More About Bonamici 2017 Yamaha YZF-R6 Rearsets > (click here)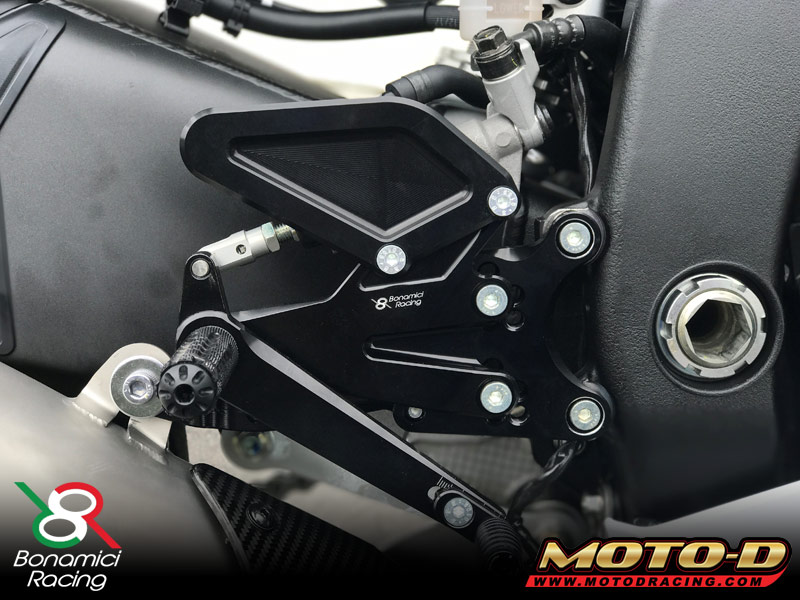 Learn More About Bonamici Yamaha YZF-R6 Rearsets (08-16) > (click here)

These rearsets, tested over and over by racers in international and national championships like WERA and CCS, are created with aluminum billet CNC technology, and available in a standard black anodized finish for strength and resistance to mechanical and chemical wear.
The 2017 Yamaha YZF-R6 rearsets also utilize bearings to eliminate friction on the foot lever, and the brake lever features a spring-loaded return for smoother action.
Construction is one thing, but where the R6 rearsets truly have the advantage is in adjustability. For the track rider and street riders, clearance and comfort are typical issues that must be dealt with for not only safety, but quicker lap times on the track or smoothness on the street.
The Bonamici R6 rearsets can be adjusted up and down, and forward and backward, allowing riders to fully customize bike set up to their liking.
The 2017 Yamaha R6 rearset kit consists of:
● Rearset Plates
● Ultra-Light Footpegs
● Heel Guards
● Fixed Toepegs
● All of the needed hardware (shift rods, etc) to install, including SAE Grade 8 bolt hardware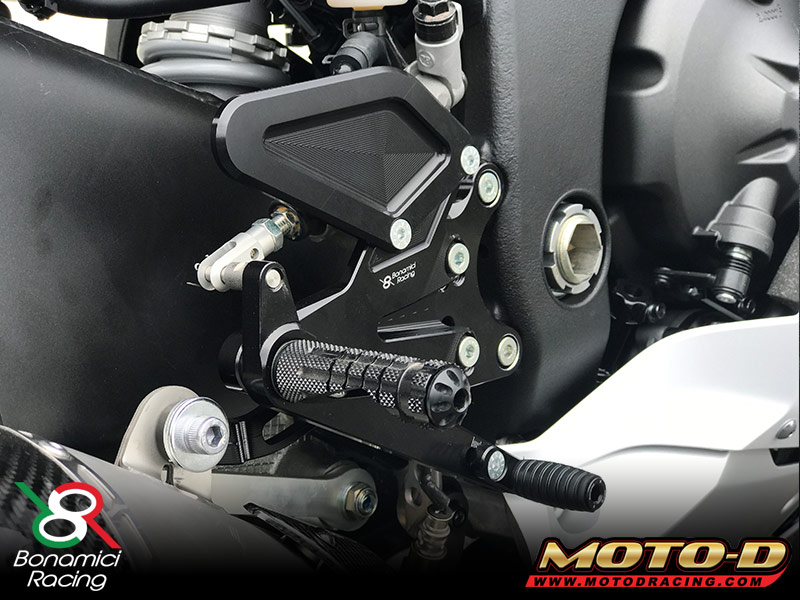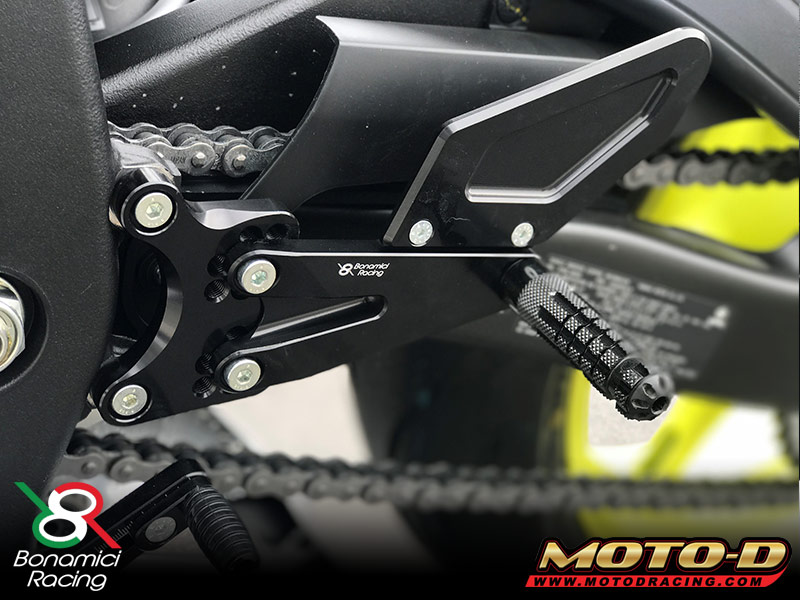 R6 Tank pads features a unique traction dome pattern that offers high levels of grip with ripping the riders leathers or rashing their leg. Learn More About MOTO-D 2017 Yamaha R6 "Traction Grip" Tank Pads > (click here)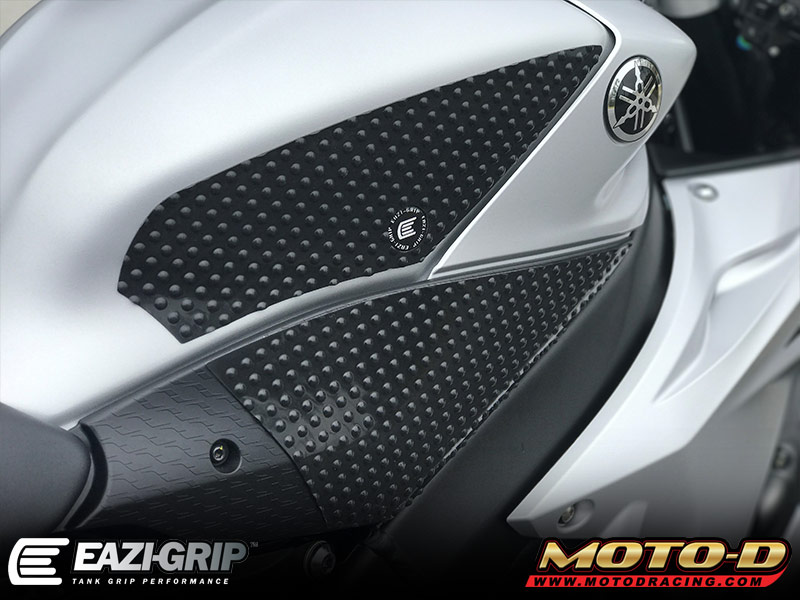 MOTO-D 2017 Yamaha R6 Quick-Release Fuel Caps were designed to open and close fast. Gas Caps are Keyless for easy fill-ups getting you back on track quick. An air-relief valve prevents tank expansion during hot weather months or storage. Learn More About MOTO-D 2017 Yamaha R6 "Traction Grip" Tank Pads > (click here)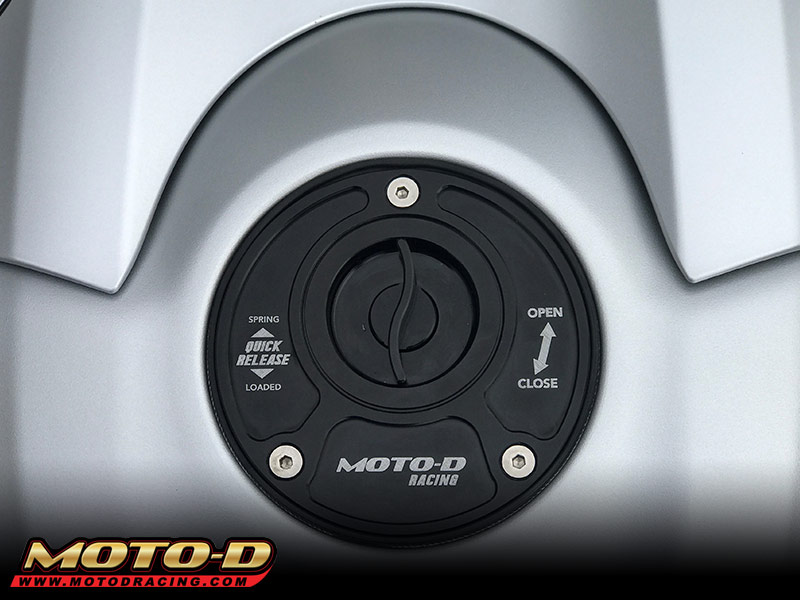 Spark Italy Yamaha R6 (2017) "GP" Titanium Full Exhaust is weighs less than its competitors and is the best performing exhaust as proven on the dyno. Learn More About Spark Yamaha R6 (2017) Slip-On & Full-Exhausts > (click here)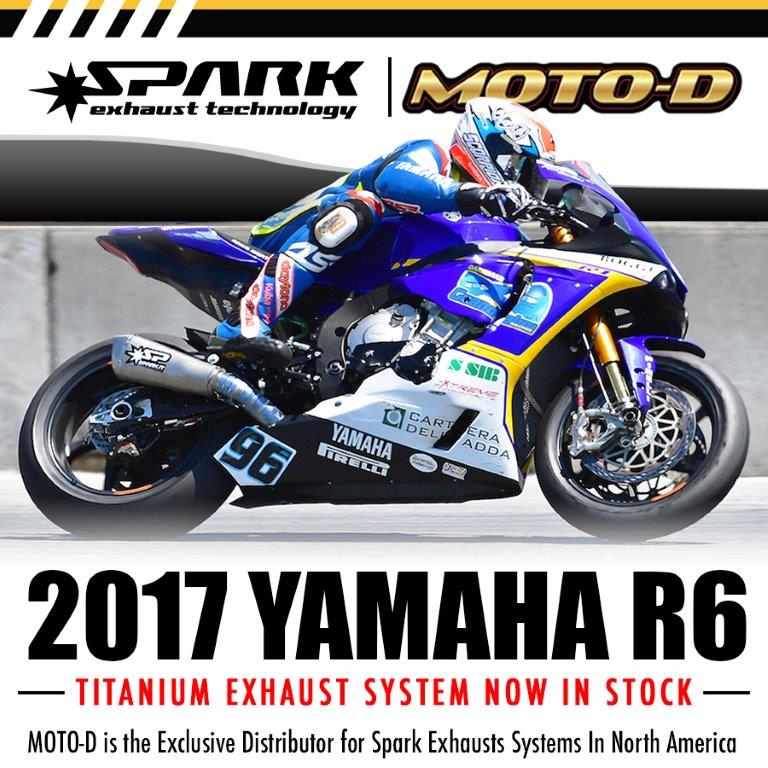 Bonamici Racing products are the result of an accurate engineering and design process performed in-house by laser scanning each motorcycle in their factory located in Otricoli, Italy. Bonamici produces racing rearsets, engine case-savers, clip-ons, and folding levers in the highest grades of titanium, aluminum, magnesium, and steel alloys. Bonamici is able to assist customers and provide them with the best solutions to optimize their bike based on rider feedback. Technical support is provided by the Bonamici North American Distributor which can solve any problems with care.

MOTO-D is the exclusive North American Distributor for Bonamici Racing Italy. For more info visit www.motodracing.com
comments powered by

Disqus