Posted by MOTO-D on 29th May 2019
We love our 2015 KTM RC390 shop bike, it's lightweight, nimble, fun to ride, and good looking. Now that we've enjoyed it around town, up in the hills, and over at the very fun New York Safety Track we felt like now was a great time to freshen up the little race bike for the upcoming riding season with some upgraded performance parts from Bonamici and IRC Components plus a new exhaust from Spark and race air filter from DNA. Here are 10 performance oriented modifications we did that you can do to make your bike stand out from the crowd.
First before any project is started, we secured the bike on a new set of rear MOTO-D "Race Stands" which now include a rotating rear attachment that works with swingarm spools or without spools by paddle-lifting the rear swingarm.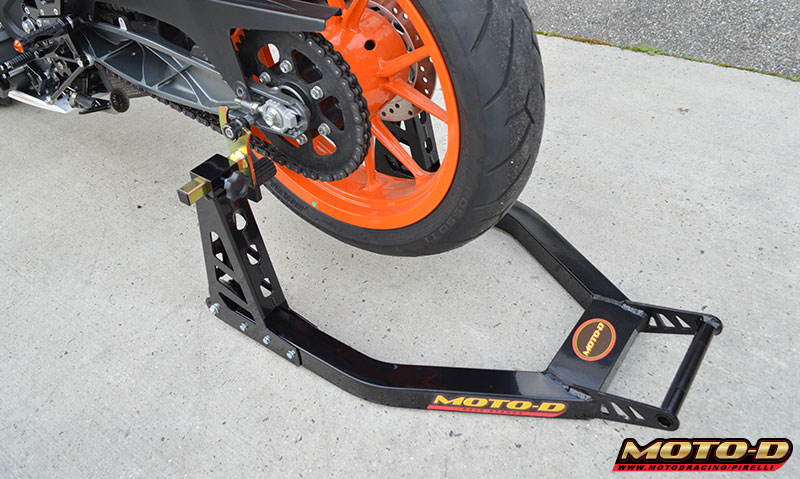 MOTO-D "Race Stands" are tough, lightweight aluminum design, these are great KTM RC390 stands that come in a set which includes both the front and rear stand.
Now that the bike is secured, we got our hands dirty and replaced the crappy paper air filter from the factory with a DNA race filter. Made in Greece, the filter and air box upgrade yields a whopping 142.85% increase in air-flow at 99% efficiency for a smoother and more powerful throttle response. This is one of the best bang for the buck improvements possible on the KTM RC390.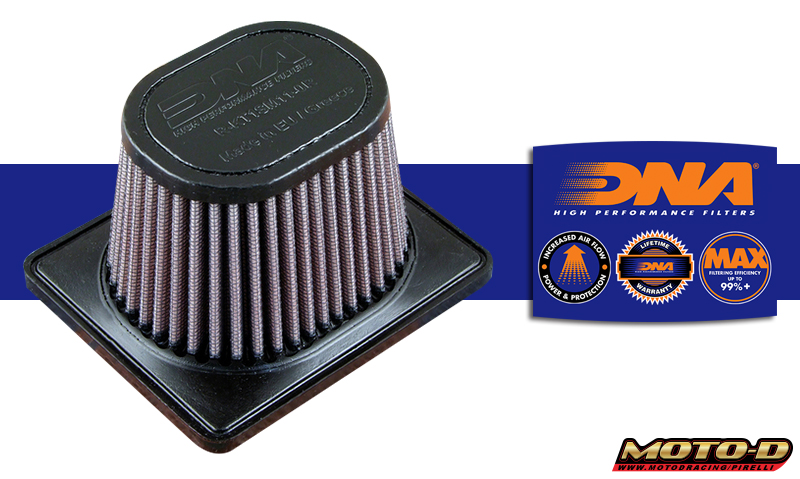 Next up we decided that a bike with the sharp looks of an RC390 should also have amazing matching sound. We replaced the quiet, restrictive stock header and mid-pipe with a handcrafted in Italy titanium "GP" short exhaust from Spark Exhaust Technologies.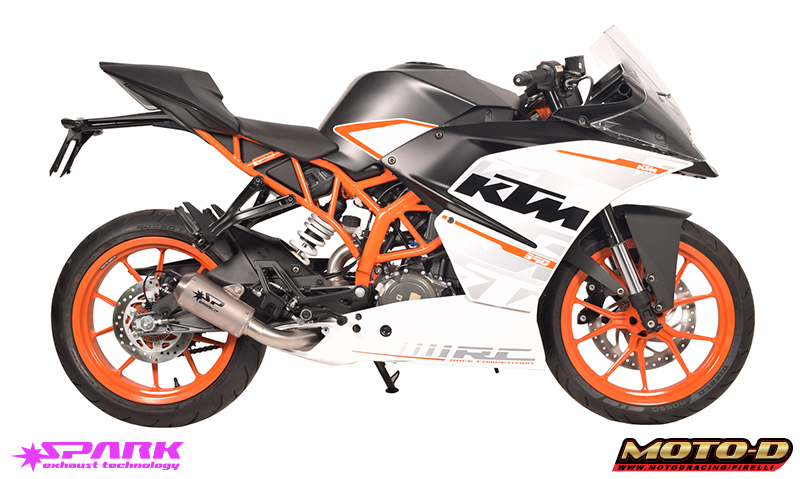 Now that we added power from the exhaust which will help us drag knee faster, a set of KTM RC390 thigh grips from Eazi-Grip tank grips is needed. They are super grippy which keep the rider in place during lean angles and g-forces during accelerating and stopping.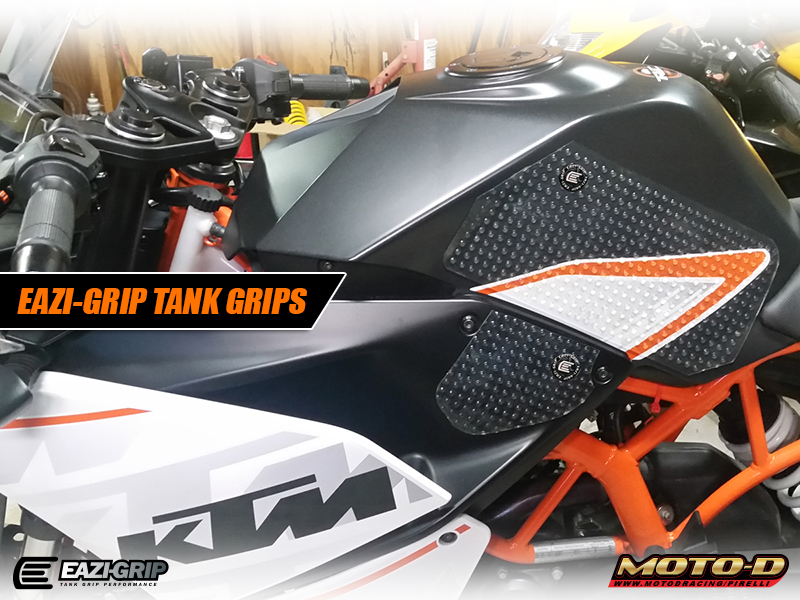 If you ride hard like we do at MOTO-D, you know that where the rider makes contact with the bike is critical for comfort, confidence, and making fast maneuvers. We installed a pair of Bonamici KTM RC390 rearsets which immediately lifted our foot position for the track and improved grip over the slippery and bulky stock KTM rearsets. The Bonamici rearsets also included racer style "folding toe-pegs" and matching orange color footpeg accent caps.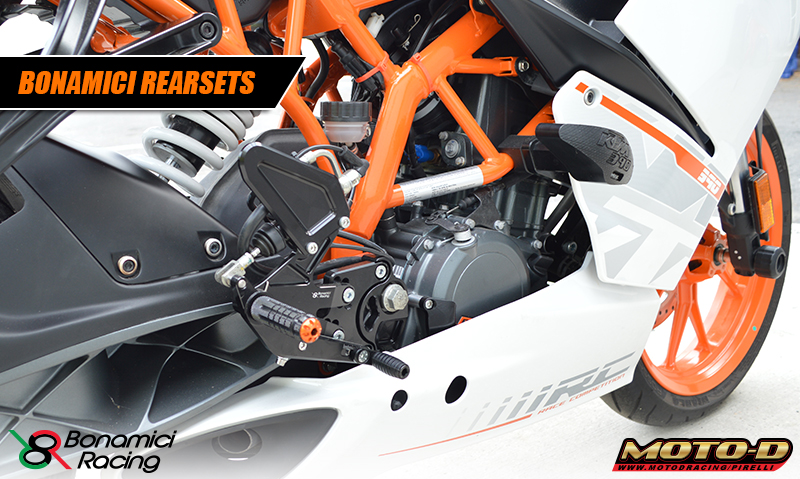 Unfortunately shit happens, and when you push it on the street or track, you may send-it. Engine cases on smaller displacement sportbikes are known to be weak and thin to keep the manufacturers costs down so in order to protect the bike we installed a set of billet aluminum Bonamici engine case savers. We like them because they look amazing, are sleek, strong, and proven in World Supersport to prevent engine case damage or worse leaking oil over the track in a slide.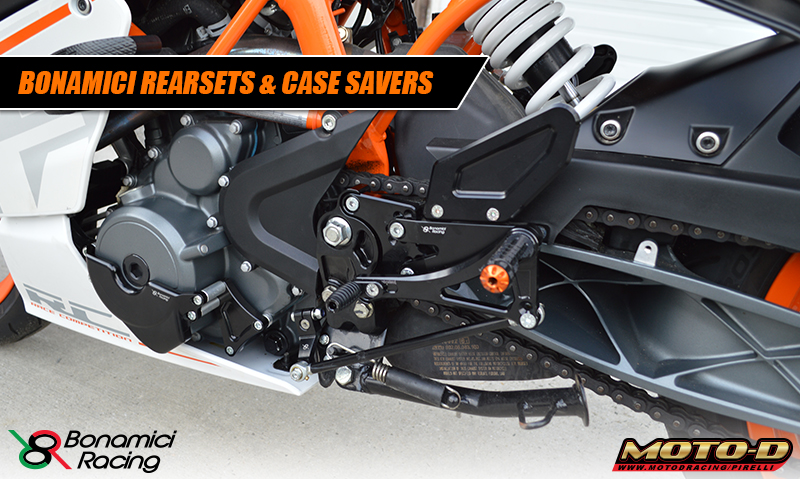 Now that we got the new Bonamici rearsets and case savers mounted, we took a look at the tank and remembered how much we hate fiddling with the key during fuel stops. When we need gas, we want to fill up fast and go so we installed a quick-action Accossato gas cap. We simply love how it looks and no more key needed!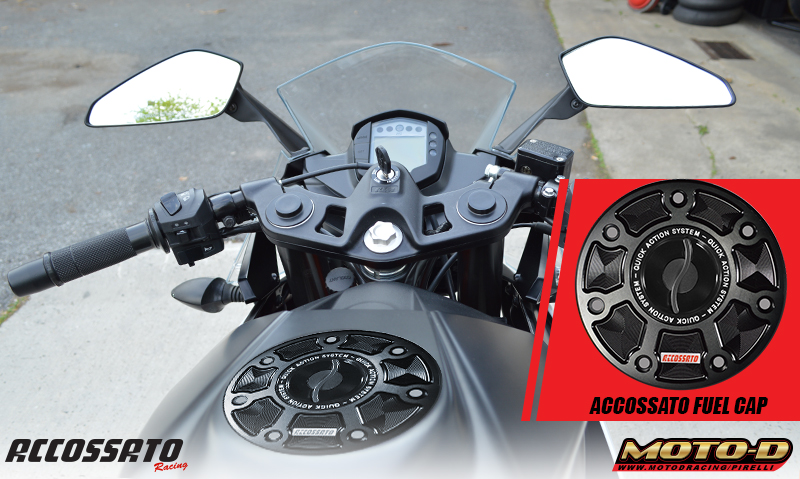 To often while cruising in town we run up on traffic, argh we hate traffic when we are out on a ride. One way to make the bike easier to ride in these situations is to install a quickshifter. The clutchless KTM RC390 quickshifter from IRC Components has amazing performance with a racer friendly price plus it's completely plug and play. It also saves time when going full throttle which is an advantage over even the most seasoned riders without one on the track.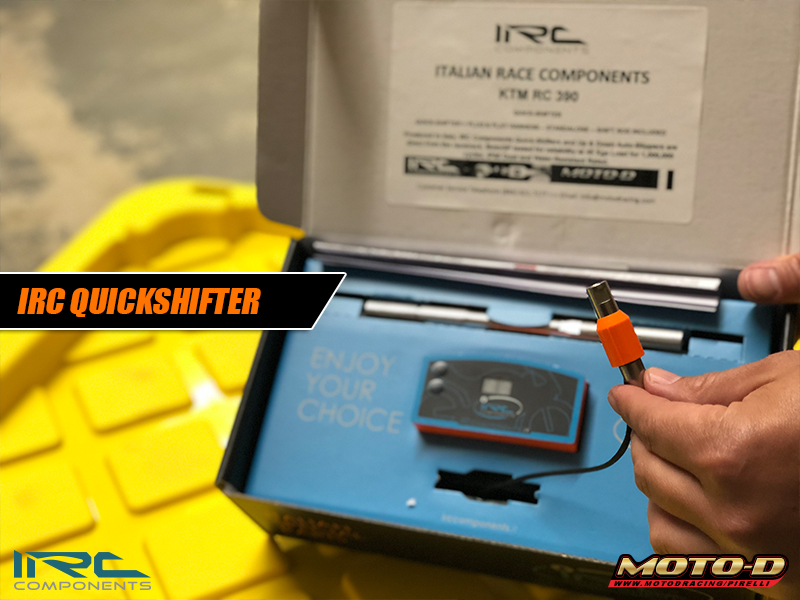 Now that we have upgraded all the race parts to the RC390, the last things to do before we take it out for a ride is to install a set of the new Pirelli Trackday Supercorsa tires in size 110/70 for the front and 140/70 for the rear with 90 degree angled valve stems. Pirelli's new street legal tire is a "can do it all" tire purposely made to run canyon-carving pace on the street, able to offer good performance during wet commutes home, and achieve slick-lick performance on the track without tire warmers.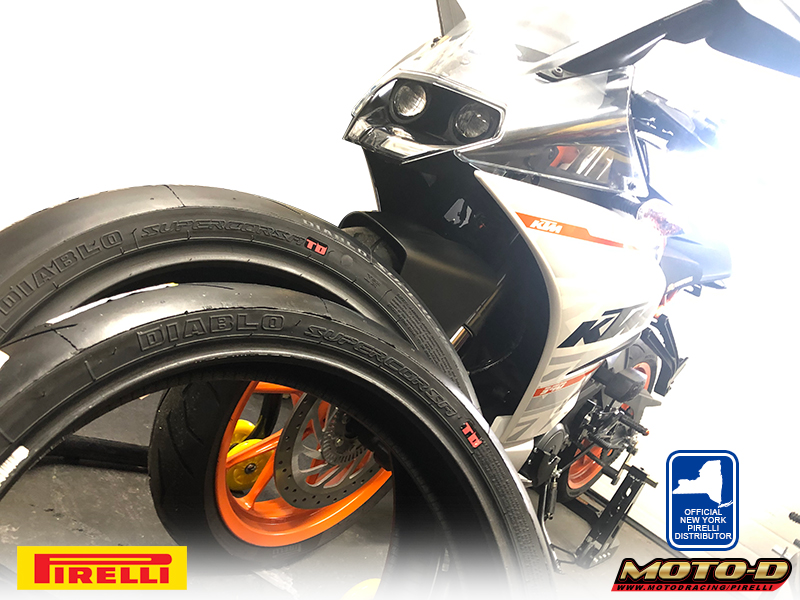 To learn more about performance parts for the KTM RC390 including after-market modifications from MOTO-D including tire warmers and stands plus parts Bonamici Racing, IRC quick-shifters, DNA air filters, Eazi-Grip tank pads, Pirelli tires, Spark exhausts, and Accossato Racing visit www.motodracing.com
comments powered by

Disqus