WINTER CLEARANCE - WE HAVE SEVERAL "TEAM" UNDERSUITS WITH VARIOUS 2ND CHEST LOGOS ON THEM (i.e. AMA, WERA, CCS, ETC), IF YOU DON'T CARE ABOUT AN EXTRA CHEST LOGO PICK ONE OF THESE BRAND NEW UNDERSUITS UP AND SAVE $10! LIMITED SUPPLIES.
Performance Riding Coolmax Motorcycle Undersuit. Wicks Moisture and Perspiration helping to keep you COOL. High Stretch Fit for Maximum Range of Motion. Full Length Two-Way Zipper, Comfortable Footstraps (keeps suit in position). Slide in and out of Motorcycle Leathers, Jackets, and Pants with Ease. Most Comfortable Motorcycle Undersuit, will not Bunch Up while Riding. Perfect Fit "Guarantee", Unisex, 1-Year Warranty. Six (6) Sizes, XX-Small to X-Large, color Black: (pick the smallest size possible for best fit, undersuits are high stretch, soft, and forgiving which is why they are comfortable and act like a smooth 2nd skin (vs. a tight compression "muscle" shirt).
If you are in between sizes or +5lbs over (but under 6ft tall), please select the smaller suit size for best fit, contact info@motodracing.com for assistance with sizing. We guarantee perfect fit and return postage if not satisfied.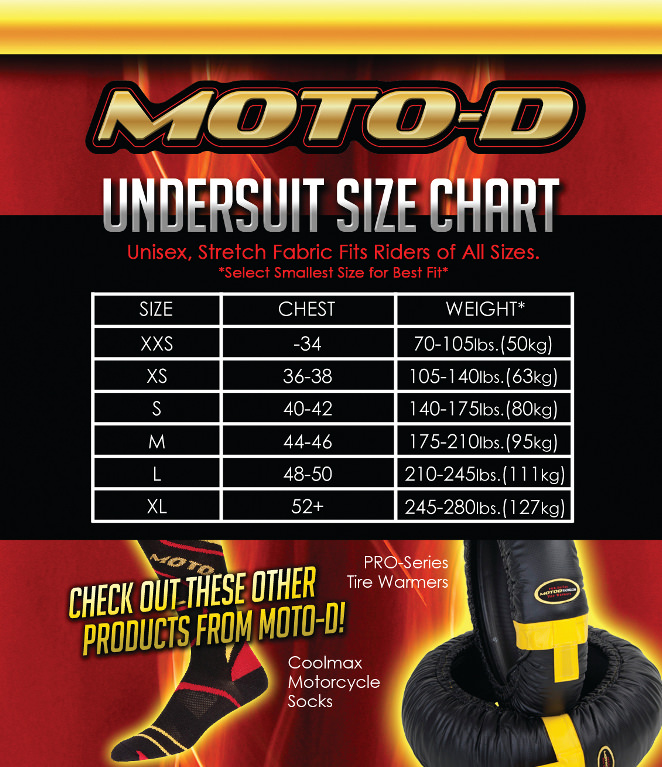 Worn by riders in the AMA, CCS, WERA, AFM, and Top Level Racing Schools and Trackday Organizations